U.S.: Consumers Are Finally Shifting Into Lower Gear
It's not just energy. As rates rise, homes will no longer be cash cows
Since this economic upturn began almost four years ago, the consumer has powered the gains in demand. But now this Energizer Bunny looks to be slowing down. That's not necessarily a bad thing, since the business sector and the government's hurricane-rebuilding effort will pick up much of the slack, and a spending pause will give shoppers time to pare down debt loads and add to savings. But considering that household buying accounts for more than two-thirds of real gross domestic product, any turn in this sector changes the direction of the overall economy as well.
The latest spike in oil prices along with the Federal Reserve's resolve to hike interest rates have accelerated the erosion in consumer fundamentals. Cheap loans are becoming a thing of the past. Faster overall inflation is squeezing purchasing power. And most important, a house can no longer be treated as a piggy bank, a reversal of fortune that could cause a bigger drain on the economy than the slowdown in home construction alone.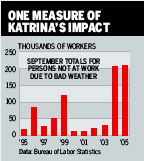 This is no temporary downshift. Higher fuel prices aren't going away, and the growing fear is that they are seeping into the prices of other goods and services. The Fed seems intent on raising short-term rates further, and inflation worries in the bond market are pushing up long rates, too. All this will put a strain on households, especially low-income families, at the same time that huge heating bills hit monthly budgets this winter.
Consumers will no longer be able to rely on the same supports that had propped up their spending through much of this expansion. Instead, gains in demand will depend even more crucially on the performance of the labor markets and how workers perceive their own job security. Real consumer spending has grown at nearly a 4% annual rate for the past two years. But for the end of 2005 and into early 2006, the pace will probably ease to about 3%. A slowdown to that level is no disaster, but it suggests that retailers could be disappointed during the holiday shopping season and into the new year.
THE KEY WILL BE THE LABOR MARKETS. They still look to be in good shape. Because of work disruptions from Hurricanes Katrina and Rita, payrolls fell by 35,000 in September. But that was far fewer than what economists had expected, perhaps because many large companies continued to pay their workers even if facilities were closed. The Labor Dept. counts workers as employed if they are receiving a paycheck.
Nonetheless, the hurricanes skewed last month's survey. Labor reported a sharp drop in data-gathering interviews in Louisiana, Mississippi, and Texas. And 210,000 nonfarm workers could not get to their jobs because of bad weather. That compares with 205,000 in September, 2004, when four hurricanes hit. This September's drop in work attendance, along with the strike at Boeing Co. (BA ), suggests that measures of output may show a larger decline than what the small payroll drop implies.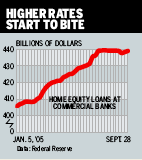 Other data, however, indicate that labor markets were healthy at the end of the third quarter. The average workweek was at 33.7 hours, the same length since May. Construction added 23,000 jobs, professional services hired 52,000, and education and health payrolls grew by 49,000.
Excluding the hurricanes' impact, Labor said payrolls in September would have increased in line with the 194,000 monthly pace averaged over the year ended in August. During that period, real wages and salaries grew 3.5%. With business surveys suggesting that post-Katrina hiring will bounce back, future pay gains should be strong enough to keep consumers spending, but other sources of cash will begin to dry up.
UNDOUBTEDLY, THE BIGGEST DROUGHT will come in home financing. A housing-sector slowdown will exert a direct drag on economic growth, but the secondary impact may be even greater, given how homeowners are using the capital gains from their houses to finance their spending.
A recent Fed study calculated that households extracted $600 billion in cash from their homes in 2004. The money came from homes being sold, cash taken out during refinancings, and home-equity loans. Previous studies have shown that one-quarter to one-third of that money is used for current consumption. So equity extraction financed 30% to 40% of the increase in consumer spending last year, accounting for close to one percentage point or more of total real GDP growth of 4.2%. (For comparison, the residential-building sector of GDP kicked in just 0.6 of a point last year.)
Now, however, higher interest rates and slower home price appreciation are cooling cash-outs. The level of home-equity loans at commercial banks has plateaued since July. Mortgage broker Freddie Mac (FRE ) forecasts that cash-outs taken during refinancings will total $162 billion this year. While that's up from $140 billion in 2004, Freddie Mac reckons that $102 billion already has been cashed out in the first half. So it expects just $60 billion to be extracted in the second half. It forecasts that cash-outs will then slip to only $69 billion for all of 2006.
THE LOSS OF an easy source of cash could not come at a worse time for many consumers since high heating bills, rising borrowing costs, and potential price increases for other items will cut into family budgets. The Energy Information Administration presented its winter heating forecasts on Oct. 12 and projected that homes heating primarily with fuel oil will see a 32% jump in their heating bills this winter. Homes heating mainly with natural gas will suffer a 48% increase.
Hefty heating bills will take the biggest bite out of the finances of households that are already struggling. A survey of credit-card use by lower- and middle-income families done jointly by public policy groups Demos and the Center for Responsible Lending shows that, on average, one out of three households surveyed used their credit cards to cover living expenses in four of the past 12 months. Unless job markets tighten enough to lift the wages of low-paying jobs, these consumers face the toughest going if fuel bills stay high.
That's on top of possible price hikes for other items. With the economy and job markets growing, there is a potential that businesses will try to mark up the prices of their products in coming months. Policymakers at the Fed are concerned about new price pressures, as seen in the minutes of their Sept. 20 policy meeting. The minutes show that the Fed has lifted its forecast for core inflation in 2006, and policymakers concluded that "further rate increases probably would be required."
Worries about higher fuel costs pushing up other prices have caused long-term rates to increase as well. The twist for the outlook: Higher mortgage rates will only make it more difficult for consumers to take cash out of their homes, creating a bigger drag on spending.
For years, consumers have been a resilient lot. Terrorist attacks, corporate scandals, and Fed tightening have not swayed them. But the latest spike in energy prices may prove to be one blow too many.
By James C. Cooper & Kathleen Madigan
Before it's here, it's on the Bloomberg Terminal.
LEARN MORE