No. 94: Straumann Holding
SALES: 272.1 million euros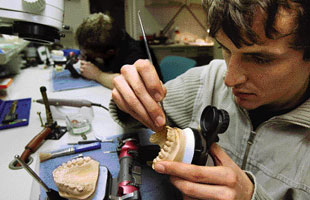 IMPLANT JOB Innovation is key
Straumann Holding gets exciting numbers from a humdrum business. This 51-year-old company, founded in the tiny Swiss village of Waldenburg, is the European and Asian market leader in dental implants, supplying the materials for specially engineered metal posts that dentists graft directly onto the jawbone to serve as a base for a crown or other artificial tooth. With implants growing in popularity, Straumann posted record profits of euro 64.5 million last year on sales of euro 272.1 million. This year is just as impressive: In the first six months, sales rose 19%, to euro 164 million. The company employs 1,228 people around the world and sells its products in 60 countries.
For decades, Straumann was a family-run company specializing in orthopedic supplies for repairing broken bones. But when the founder's son died in 1990, the family sold most of the business, leaving only a small dental division in the hands of the founder's grandson, Thomas Straumann. Then in his mid-20s, Straumann spotted opportunity as dentists turned to implants as a more comfortable and durable -- albeit expensive -- alternative to dentures. Thomas Straumann no longer runs the company, but he retains a 38% stake. The stock is up 68% so far this year.
Research is key to Straumann's success. The company relocated to Basel in 2004 and set up a U.S. headquarters near Boston earlier this year so it could work more closely with outside research facilities in both cities. Those efforts have yielded products such as SLActive, a material for coating implants that Straumann says will cut the normal healing time of three to six months in half.
Such innovations could help Straumann surmount its next challenge: building sales in the U.S., where it runs a close second to its Swiss-based rival, Nobel Biocare. While 42% of the euro 1.3 billion global implant business is in Europe, the U.S. is expected to account for most of the industry's projected growth to euro 2.9 billion by 2010. CEO Gilbert Achermann, who took over in 2002, says Straumann will stay focused on implants, even though competitors such as Nobel Biocare offer a wider range of products. "Delivering peace of mind with a high-quality product, that is what makes you successful," he says.
Before it's here, it's on the Bloomberg Terminal.
LEARN MORE