SALES: 236.2 million euros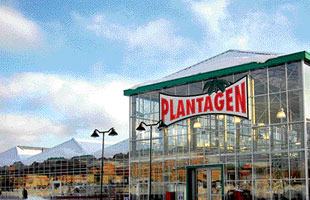 FINLAND STORE Plantasjen is expanding fast
Plantasjen Chief Executive Officer Dean Zuzic admits he has no green thumb. But he seems to have found the formula to keep the Norwegian garden store chain growing by at least 20% a year. Zuzic says sales are on course to climb 21% this year, to euro 292 million, yielding a euro 40.6 million profit, a 17% increase.
Founded in 1986 in Kongsvinger, Plantasjen (which is Norwegian for "plants") was a mom-and-pop operation until 1993, when the owners began building a superstore chain. Expansion really took off in 2001, when EQT, a venture-capital company owned by Sweden's Wallenberg family, bought a 92% stake for an undisclosed amount. Today, Plantasjen has 61 stores in Norway, Sweden, and Finland, and a staff of over 1,300. EQT brought in Zuzic, who served as the company's chief financial officer before taking over as CEO a little more than a year ago.
Inside Plantasjen's stores, there is plenty of room between aisles for leisurely browsing among the thousands of colorful plants, including best-sellers like begonias and geraniums. The largest stores have cafeterias to encourage shoppers to stay longer. The aim, says the 41-year-old Zuzic, "is to be the Ikea of gardening centers. We want to get you to spend a little more than you had planned to." Complementing the plants are garden furniture, tools, and shrubbery.
EQT managers have said recently that the time is right to cash in their stake. Zuzic expects them to sell shares in an initial public offering or to sell the company to another institutional investor within two years. Meanwhile, he's eyeing Russia and the Baltic countries as new markets. A chain of flower shops, tentatively known as Plantasjen Mini, is also being considered. Zuzic, however, has no plans to take up gardening. "The less I know about gardens, the fewer questions I ask, so I don't mess things up for the people who do know," he jokes.
Before it's here, it's on the Bloomberg Terminal.
LEARN MORE