SALES: 149.4 million euros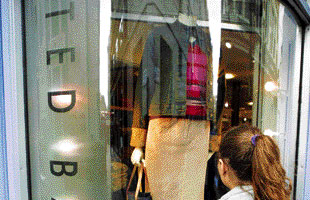 >STRIKE A POSE
THE GUARDIAN
When Raymond S. Kelvin opened a men's shirt shop called Ted Baker in Glasgow in 1988, he had big ambitions but not a lot of money. So rather than advertise, he relied on word of mouth and the creation of a personality to anchor the brand.
Enter Ted Baker, or Ted, as this mythical man is often called. He is a bit quirky and the embodiment of cool. Ted's an English lad who likes fishing, travelling, dogs, and partying. He's also the type that always knows what to wear and what to say. The Web site and some of the stores are set up so you feel you are in Ted's house, complete with a dog (a statue, really). Even Kelvin's mother, who helps out in the London stores, does her part to perpetuate the myth, wearing a name tag that reads: "Ted's Mum."
Ted has helped the company do big things. Kelvin, the company's chief executive and, as he calls himself, "the closest man to Ted," eschews traditional advertising. Instead, his business model relies on "quality products delivered with a strong brand image and personality," he says.
After the Glasgow shop opened, Manchester and Nottingham quickly followed. By 1990, Ted Baker had opened a store in London's trendy Covent Garden, and Kelvin was able to buy out his founding partner, retailer A. Goldberg & Sons. These days, Ted Baker boasts nearly 100 locations, including its own outlets and boutiques inside department stores, along with a thriving wholesale business. The company has also expanded its product lines into a wide assortment of trendy apparel for men, women, and children, as well as housewares. Prices for a shirt run at around euro 100, while suits start at euro 440.
The expansion is showing up in the bottom line. The company, which went public in 1997, reported a rise in pretax profits of 20.7%, to euro 24.5 million, on revenue of euro 149.4 million for the fiscal year ended January, 2005. But that's not enough for Kelvin, who is now intent on conquering overseas markets. The focus is currently on the U.S., where the company has opened five stores and also is selling wholesale through a partnership with Hartmarx Corp. (HMX ).
Despite his success in building an international designer label, founder Kelvin prefers to avoid the limelight. The press-shy executive rarely agrees to interviews and generally refuses to have his face photographed. The limelight is reserved for "Ted."
Before it's here, it's on the Bloomberg Terminal.
LEARN MORE