SALES: 101.5 million euros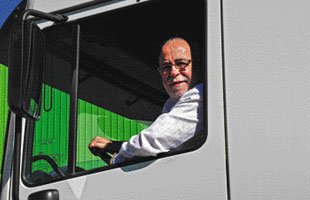 RIDING HIGH Redur's Lozano
QUIM LLENAS/COVER
In 1967, with the earnings from the sale of a wheat crop grown on his family's farm in northern Spain, a young truck driver named Angel Lozano bought a secondhand truck. Now 61, Lozano heads Redur, Spain's fastest-growing transportation and logistics company, with nearly 1,500 employees, a fleet of 800 trucks, and a network of warehouses and depots throughout the country. Sales are projected to hit euro 112.5 million this year, up from euro 101.5 million in 2004. The privately held company doesn't disclose profits.
Lozano's ability to spot opportunities has been key to Redur's success. For example, in the 1970s he began express-delivering parts to regional repair centers to speed up work on his growing fleet of trucks. Then, when auto makers such as Renault and Fiat expanded their Spanish operations after Spain entered the European Union in 1986, he used Redur's experience with just-in-time delivery as a selling point to attract the carmakers' business. Redur now provides express freight delivery and inventory storage services to a wide range of industrial clients, and recently invested euro 23 million to build a 95,000-square-meter logistics center in Madrid.
A stickler for customer service, Lozano has been known to investigate customer complaints by donning workman's clothes and making deliveries himself. Personal touch or no, Redur faces growing pressure as the logistics industry consolidates. It has clients only in Spain and limited access to financing. Lozano has no plans to expand internationally and has ruled out a stock market listing. For now, there's plenty of room for smaller players in the Spanish market. In the long term, Lozano will need all his zeal for customer service to keep Redur rolling.
Before it's here, it's on the Bloomberg Terminal.
LEARN MORE