INDUSTRY
Financial Services
SALES
$9.3 billion
PROFITS
$1.0 billion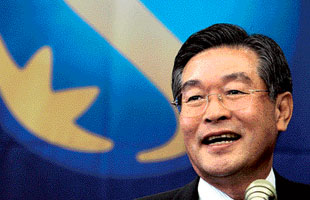 YOU SUNG-HO/REUTERS
Shinhan Financial Group Inc.'s (SHO ) creation epitomizes the sweeping changes in South Korea's financial industry. It emerged from a series of mergers of weak financial institutions -- a process of consolidation that has helped heal the wounds left by the near-collapse of the banking industry in the Asian financial crisis of 1998. When the group's banking divisions -- Shinhan Bank and Chohung Bank -- merge next spring, it will become the country's No. 2 lender after Kookmin Bank (KB ), with 930 branches and assets of $165 billion.
The quest to remake Shinhan was begun four years ago by Lee In Ho, who took over as CEO in May. With that goal achieved, Lee has his eyes on an even bigger prize. ``Our track record of growth will help us emerge as the No. 1 financial group by 2008,'' he says.
That's not idle bluster. It comes from the head of one of Asia's most profitable big banks. Shinhan Financial Group posted record three-month earnings of $458.5 million for the quarter ended June 30, up 45% from a year earlier. Shinhan's rapid growth stems largely from its buyout record. Analysts have praised each deal for expanding the group's business into areas such as credit cards, brokerage services, asset management, and insurance. Shinhan expects these services to contribute 25% of profits next year, up from less than 10% now. Lee wants Shinhan to become a financial supermarket. He seems to have all the elements in place.
Before it's here, it's on the Bloomberg Terminal.
LEARN MORE