SALES: 17.2 million euros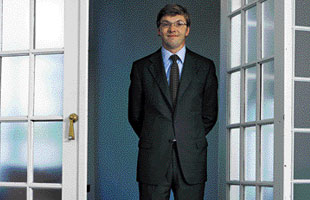 ALKEMADE Empowering users
JOAN DE BOER
MarketXS believes it's not what you know, it's how fast you can deliver. The six-year-old private Dutch company provides software for streaming real-time market data and trading systems to financial institutions and their customers. Unlike rivals Reuters (RTRSY ) and Bloomberg, MarketXS doesn't create this content, it only provides the technology to sort it. The data come from wire services such as Dow Jones Co. (DJ ), stock exchanges, and research companies. Because MarketXS allows clients to pick and choose the exact information they want from multiple sources, the result is a tailor-made service at a fraction of the cost. "There has been a shift in power from those who have the content, to those who have the technology to provide that content as efficiently as possible," says Floris Alkemade, 39, company founder and chief executive.
That shift has translated into a tidy business. From sales of euro 3.7 million in 2003, Amsterdam-based MarketXS generated euro 17.2 million in 2004 and plans to top euro 20 million this year, thanks to newer and faster products. The company now counts 110 employees in four offices in the Benelux countries and Germany, and more than 350 customers throughout Europe. Profits hover around the euro 1 million mark because of heavy initial investments in technology, but are expected to be significantly higher over the next two years.
Alkemade's inspiration came from his day job. As a bond salesman at Dutch bank ABN Amro (ABN ) in the late '90s, he became frustrated with his one-size-fits-all Bloomberg screen, and realized that there was a niche for a service where customers can add or remove data streams to fit their needs, often in a matter of hours. He and a few partners founded MarketXS in 1999.
The company hit the big time in 2002 when it snagged the ABN Amro account. Today, MarketXS powers the Dutch bank's intra- and Internet sites, including its retail service where clients can trade stocks. Jan de Roeck, director of financial technology at the Dutch bank, says he was desperate to break the Reuters/Bloomberg duopoly. "MarketXS was the only one that delivered on time and within budget, saving us 60% on our previous service." Other MarketXS bank customers include ING and Fortis.
Before it's here, it's on the Bloomberg Terminal.
LEARN MORE