SALES: 23.2 million euros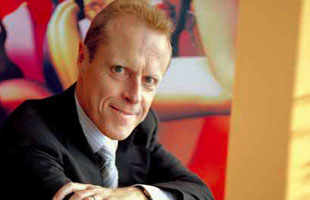 Guillemot He's hiring like mad
France has an outsized position in video games, thanks to top makers such as Infogrames Entertainment and Ubisoft Entertainment. But no company is kicking derrière like Paris-based Gameloft, the world's second-largest seller of downloadable games for mobile phones. Thanks to blockbuster titles such as Tom Clancy's Splinter Cell and Prince of Persia, Gameloft's revenues grew 128% last year, to euro 23.2 million, and zoomed 134% in the first half of 2005. Net profits in 2004 were euro 1.9 million. To keep up with demand, Gameloft is hiring like mad: It now employs 1,700 people in Europe, Asia, and North America, up from just 250 in early 2004. "Our goal is to be No. 1 when the market hits big, in 2008 or so," says CEO Michel Guillemot, 46, who founded Gameloft in 1999.
There are already around 800 million handsets in the world able to play games written in Java or Qualcomm Inc.'s (QCOM ) BREW. Within a few years that number should top 1.5 billion, enough to make mobile gaming a true mass market phenomenon. Gameloft's 50 titles, mostly priced from euro 3 to euro 6, are available for over-the-air download from 130 mobile carriers around the world on more than 250 handsets. The company is slated to ship more than 22 million units this year.
That kind of opportunity is stoking the competition. The granddaddy of gamemakers, Redwood City (Calif.)'s Electronic Arts Inc. (ERTS ), has announced more than a dozen mobile titles including versions of marquee properties such as Tiger Woods, Madden NFL, and The Sims. Yahoo! Inc. (YHOO ) and Walt Disney (DIS ) Co. also are eyeing mobile gaming.
Gameloft isn't coasting. It's doing more movie tie-ins, such as a top-rated War of the Worlds game and a King Kong title set to debut in sync with the new Peter Jackson remake. To battle EA, the company is signing deals with celebrity athletes such as golfer Vijay Singh and baseball star Derek Jeter. "Gameloft is on the leading edge in terms of product quality, development capacity, and network relationships," says Citigroup (C ) equity research analyst Sébastien Lalevée in Paris. Investors agree: Gameloft's Euronext shares have doubled this year, to a recent euro 6.13.
Before it's here, it's on the Bloomberg Terminal.
LEARN MORE