SALES: 250 million euros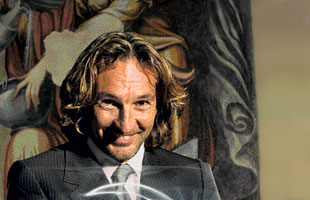 LIFE IN THE FAST LANE Entrepreneur Lori
ROBERTO ARCARI/CONTRASTO/REDUX
With high labor costs and stiff competition from rivals in China and Eastern Europe, companies in Italy are struggling to keep their factories open. Despite the challenges, 36-year-old entrepreneur Fabrizio Lori went ahead and inaugurated a 600-employee factory outside Venice last year to satisfy growing global demand for his product -- a breathable plastic film used to make diapers and sanitary napkins. "I'm going to manufacture here as long as I can," says Lori.
What's his secret? Innovation. In 1993, when he was just 24, he inherited his father's company, Nuova Pansac, which made cheap plastic shopping bags and plastic packaging for mozzarella and other consumer goods. Competition from factories in emerging markets was already building. "I knew I had to make a decision: move manufacturing elsewhere, or totally change the product range," says Lori.
So he set his engineers to work on something really new. They came up with a plastic film that lets through air but not water. Lori patented the film and the machinery that produces it in 2000, and began selling it to diaper makers, including Kimberly Clark and Procter & Gamble. Sales are on course to hit euro 300 million this year, a 20% increase over 2004.
The long-haired, tanned entrepreneur is known for his love of fast cars, yachts, and helicopters. He also chairs a soccer club called AC Mantova, which he acquired last year and has steered into the second division. At Nuova Pansac, Lori is pressing ahead with the development of a new, patented product, which for now remains top secret. "If you stop moving, you're dead," he says. The energetic Lori isn't about to stop moving.
Before it's here, it's on the Bloomberg Terminal.
LEARN MORE