No. 1: PTT
Prasert Bunsumpun, 53, CEO since 2003
INDUSTRY
Integrated gas/oil
REVENUES
$16.1 billion
PROFITS
$1.57 billion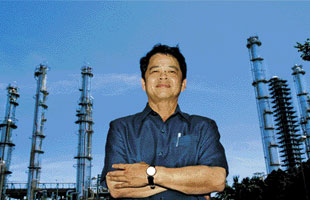 STEPHEN SHAVER/BLOOMBERG NEWS
When PTT was created four years ago by privatizing the state-owned Petroleum Authority of Thailand, managers could have sat back and let the money roll in. After all, PTT instantly became the biggest listed company in Thailand. Today, PTT and its listed subsidiaries account for 28% of total market capitalization of the Stock Exchange of Thailand. It's No. 1 in oil and gas imports and exports, refining, petrochemicals, and retail gas sales.
But Prasert Bunsumpun, 53, who took over as CEO 2 1/2 years ago, has reorganized the company's bureaucracy and finances, upgraded technology, and upped PTT's stakes in refineries and petrochemical ventures. PTT has more than tripled its profits since then -- and only part of the gain is from higher oil prices. ``We want our operating companies to be industry leaders with strong financial and operational excellence,'' he says.
Now the civil engineer, who has an MBA from the University of Utah, has global ambitions. PTT has exploration and production operations in three nations in Southeast Asia, and in Iran, Oman, and Algeria. ``We want to be the preeminent energy group in the region,'' says Prasert, ``but with accountability, optimum stakeholder returns, and a value-driven corporate culture.'' Sounds as if PTT's name will soon resonate beyond Bangkok.
Before it's here, it's on the Bloomberg Terminal.
LEARN MORE