SALES: 465.1 million euros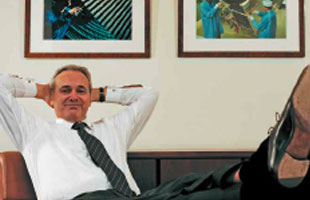 Louis "We're in full acceleration"
ROBERTO FRANKENBERG/CORBIS
Assystem is a late bloomer. Founded in 1966 to furnish engineering services to the French nuclear industry, the Paris company has remade itself over the past five years, bulking up with mergers and acquisitions to become a global player in the fast-developing field of technology consulting.
Today, Assystem has 8,000 employees, a 20% increase from last year and more than four times the number in 2001, earning it the No. 1 spot for job creation among Europe's hot-growth companies. It operates in 17 countries, advising corporate clients on everything from aircraft and automobile design to computer-network development. Profits last year were euro 23 million on euro 465.1 million in sales, excluding amortization of acquisitions, and first-half 2005 operating profits rose 20%. The company says it's on track to top euro 550 million in sales this year and aims for euro 1 billion by 2007.
Assystem's transforming deal came in 2003, when it merged with Brime Technologies, a Paris consulting group specializing in technology and telecommunications, areas where Assystem was weak. To broaden its geographic reach, Assystem late last year entered a partnership with India's Tata Consultancy Services Ltd. to work jointly on projects for Airbus and other clients. Last March the company set up operations in China. It also recently acquired Britain's Inbis Group and Germany's Atena Engineering, both with a strong list of aerospace clients.
That's a lot to digest, and investors seem a bit queasy. Assystem shares, listed on the Paris stock exchange since 1995, have fluctuated wildly, dropping 20% since late September though they're up about 30% since Jan. 1. But President Dominique Louis, who has held the top job since 1989 and controls a 15.2% stake, says this is no time to slow down. He's still shopping for acquisitions to bolster the company's presence in Asia and Eastern Europe and to strengthen its expertise in fields like transportation infrastructure. "We're in full acceleration, and that will continue," says Louis with the confidence of an owner.
Before it's here, it's on the Bloomberg Terminal.
LEARN MORE