Britain: Battling Both Inflation And A Slowdown
The 50% spike in oil prices this year is adding a twist to the Bank of England's policy decisions. Now the BOE must decide which is more urgent: propping up a weak economy or keeping inflation under control.
Costlier energy has already lifted annual consumer inflation to 2.4% in August, the highest in eight years and above the BOE's 2% target. Signs of increased pricing power even show up in the beleaguered factory sector. In September prices of goods leaving British factories increased 0.7%. Since June they have risen at a 7% annual rate, implying growing price pressures in the production pipeline.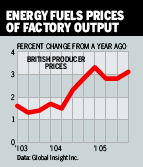 After a series of rate increases aimed at cooling a red-hot housing market and consumer spending, the BOE cut its target interest rate by a quarter-point on Aug. 4, to 4.5%, because of concern that the economy was slowing too rapidly. Revised data for gross domestic product show the economy grew 1.5% in the year ended in the second quarter, the slowest pace in 12 years. But the new inflation risks may limit further cuts and heighten tensions within the BOE's policy committee. Four of the nine policymakers opposed the Aug. 4 rate cut, including Governor Mervyn King.
Growth in the second half will show little improvement, say economists. Weak industrial output will be a drag in the third quarter. The labor markets softened further in September, and consumer spending continues to slacken more sharply than the BOE would like.
The Confederation of British Industry recently projected a tough holiday selling season for retailers. The trade group's latest survey shows that half of its retailers said sales were down from a year ago, with only a quarter reporting improvement. The net balance of -24% was the lowest in the survey's 22-year history.
Neither capital spending nor exports are taking up the slack. Exports to Europe, which account for half of Britain's trade, face a double whammy: a weak euro zone and new competition from Asia.
So, what will the BOE do? The key is consumers. If they continue to wilt, then inflation will be unlikely to take hold. If they prove resilient, then the BOE will be justified in keeping rates in a holding pattern.
By James C. Cooper & Kathleen Madigan
Before it's here, it's on the Bloomberg Terminal.
LEARN MORE