U.S.: Rate Pressure Starts Leaving A Footprint
A turn in bond-market sentiment will help to tamp down the housing boom
Has the bond market blinked? After more than a year of resistance to rate hikes by the Federal Reserve and continued economic strength, bonds finally seem to be giving some ground. And unlike other short-lived sell-offs that pushed bond yields higher, this recent pickup in long rates appears to reflect a more lasting shift in bond market sentiment. If so, then the Fed's efforts to keep the economy from overheating will take hold. And importantly, housing will continue to cool off.
What's different now? One, the Fed has made it clear that it stands ready to lift short-term rates more than the bond market had expected. Two, new reports suggest that the industrial sector is not rolling over in the wake of Katrina and higher energy prices. Three, inflation outside of energy may not be as tame as previously thought. And finally, post-hurricane relief efforts from Washington promise to swell federal financing needs, putting additional upward pressure on yields.
All this means that prospects for an end to Fed tightening and the continued quiescence of inflation are not as certain as bond investors once thought. Except for temporary breakouts in 2003 and 2004, the yield on a 10-year Treasury note has been in a tight range of 3.5% to 4.5% for over three years. Already the yield on a 10-year Treasury bond has risen from 4% in late August to nearly 4.4% in early October before backing down a bit by Oct. 5.
To be sure, a weak output or inflation number will always cause at least a brief rally in the bond market. But if Fed actions and economic data continue to reinforce the idea that inflation is a threat, long rates, including mortgage rates, will keeping rising well into 2006.
AFTER ALL, inflation expectations are, for the most part, what determine bond prices and yields. And the latest words from the Fed sound unexpectedly hawkish about inflation prospects, with increased concern over the possible pass-through of higher energy costs into prices generally. For example, on Oct. 4, Federal Reserve Bank of Dallas President Richard W. Fisher, a voting member of the Fed's policy committee, said: "Now, the inflation rate is near the upper end of the Fed's tolerance zone, and it shows little inclination to go in the other direction."
This new tone highlights a change in Fed thinking about the possible impact of higher oil prices on the economy, a view now being echoed in the bond market. Previously the mindset was that costlier oil hurt economic growth more than it lifted inflation outside of energy. Spiking oil and gasoline prices tended, therefore, to bolster bond prices and keep yields low.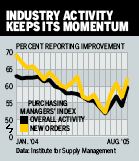 But the economy has only bent, not cracked, under $3 per gallon gasoline. The Institute for Supply Management's index on activity in the nonmanufacturing sector fell sharply in September from August, but it still indicated continued growth. And the ISM's index of manufacturing activity was a real head-turner. That index showed that the industrial sector's momentum accelerated last month. It scored its largest monthly gain since 1991, reaching the highest level in more than a year. Readings on orders, production, and employment all strengthened from August. The advance suggests industries outside the storm-affected areas are on the upswing and that they are starting to benefit from relief and rebuilding activity.
The ISM results are in line with a survey by the Business Roundtable, which shows that corporate leaders aren't overly concerned about the hurricanes' impact on their companies. Clearly, the business sector, with a big assist from government spending, looks ready to make up for whatever consumer demand the economy may lose.
BUSINESSES MAY FEEL MORE SANGUINE about the future because higher energy costs, along with an economy growing near its full capacity, give them more cover to mark up prices. Indeed, a worrisome part of both ISM reports for bondholders was the fact that the prices of an increasing number of goods and services are rising.
Pricing power will be heightened by the additional supply constraints caused by the hurricanes. The ISM reported a large increase in companies reporting slower delivery times for goods ranging from textiles to furniture to metals to various types of industrial equipment. Those delays suggest production and distribution bottlenecks that make it easier to pass along price increases.
One important test of companies' ability to cope with costlier energy will be the performance of third-quarter profits, on which reporting will begin soon. If earnings outside of energy companies hold up well, then greater pricing power is undoubtedly helping to shore up the bottom line. But evidence of more pricing power will only add to the bond market's uneasiness.
IF SO, THEN WATCH for higher rates to bring about an end to this decade's housing boom. Indeed, it's looking as if housing peaked this summer. Of course, anecdotes aren't enough to indicate a slowdown, since sales typically fall off after the summer because families want to move before the school year begins. But the seasonally adjusted data also show housing's roar is quieting down.
For one thing, more homes are available for sale. Builders are holding a 4.7 months' supply of unsold new homes, the highest rate in more than five years. And the inventory of unsold existing homes, as seasonally adjusted by Business Outlook, shows that months' supply has been trending higher since April.
Moreover, the National Association of Home Builders/Wells Fargo housing market index fell to 65 in September, the lowest level in more than two years. The NAHB said the report did not include responses from Katrina-hit areas, which make up just 2% of the survey. But builders elsewhere are increasingly concerned about mortgage rates, buyer resistance to high home prices, fuel costs, and lot shortages.
A cooler national housing market would come at a good time, since much of housing industry's resources will shift to the Katrina rebuilding effort in 2006. That means measures of housing starts and residential investment, which go into the calculations of real gross domestic product, won't slip by much next year.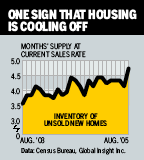 But outside the hurricane area, higher mortgage rates will dampen home sales and price increases. Remember that affordability is a function of monthly payments. At 5.5%, home buyers face a $557.75 monthly payment for every $100,000 borrowed on a 30-year fixed mortgage. At 6.5%, the payment jumps to $618.83. Given the squeeze on budgets from higher energy bills, buyers will have less leeway to bid up prices. And with the rising inventory of homes out there, some local markets may be shifting to favor buyers over sellers.
Credit is the lubricant that keeps the economy moving smoothly. But with price pressures growing at a time when the federal government may be borrowing at a record pace, investors are likely to want a fatter return on their money, slowing the demand for big-ticket items such as cars and homes. Higher rates won't cause a big slump next year, but expect them to pour some sand into the economy's gears.
By James C. Cooper & Kathleen Madigan
Before it's here, it's on the Bloomberg Terminal.
LEARN MORE