France: Consumers Lose Their Joie de Vivre
With energy prices soaring, the outlook for French consumers will depend greatly on the labor markets.
Consumer spending was healthy over the summer, with price-adjusted demand for manufactured goods up 1.2% in July and 1.9% in August. But retailers had to use discounting to draw in shoppers, and incentives helped to lift vehicle sales in September as well.
Consumers are more price-conscious because rising fuel bills are eating into their budgets. Higher energy costs pushed total yearly inflation from 1.7% in July to 1.9% in August, and given the September oil spike, inflation probably rose further last month.
Consumer confidence inched up in September thanks to better-looking job markets. The jobless rate held at 9.9% in August, staying below 10% for the second month in a row. But public subsidies to hire entry-level workers helped cut the number of jobless workers younger than 25 by 1.2%. The number of unemployed workers aged 25 to 49 rose.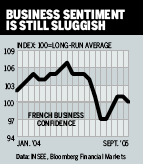 Future progress on the job front will depend on the private sector, and here the news is mixed. Business confidence remains sluggish, although hiring plans have picked up a bit. And purchasing managers were slightly more upbeat in September, but their view on jobs fell to the lowest reading in two years.
What may hold back hiring in coming months is that businesses have so little pricing power. The September purchasers' survey showed energy costs helped push up input prices, but the index for output prices declined. The imbalance is squeezing profit growth.
Private economists expect that French real gross domestic product will struggle to meet the government's growth forecast of 1.5% to 2% this year. Prime Minister Dominique de Villepin has proposed tax cuts and spending increases to lift growth over the next two years.
Such budget changes guarantee that France will -- once again -- miss the European Union's target of keeping a fiscal deficit to less than 3% of GDP. But the government may be willing to bust the budget. After all, presidential elections are set for 2007, and France has not met the deficit requirement since 2001.
By James C. Cooper & Kathleen Madigan
Before it's here, it's on the Bloomberg Terminal.
LEARN MORE