Encysive Is Breathing Easy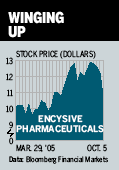 Among biotechs favored by Mark Monane of investment firm Needham, Encysive Pharmaceuticals (ENCY ) may be an early winner for two reasons: Its new oral drug, Thelin, for pulmonary arterial hypertension, or high blood pressure in the lung, may get Food & Drug Administration approval early next year. And Monane sees the company as an attractive buyout. Thelin, Encysive's lead product, has shown good results in recent clinical trials, notes Monane, who rates the stock a strong buy. It has been winging up, from 9 in May to 13 in September, before easing to 11 on profit taking. Monane figures the stock will hit 17, based on his forecast that Encysive will start making money in 2007 -- with earnings of 99 cents a share, jumping to $2.20 in 2008. He expects its projected sales of $127 million in 2007 to leap to $217 million in 2008. Monane says Encysive doesn't plan to take on a partner to develop and market Thelin. Without a large drugmaker as a partner, Encysive would be vulnerable to big drugmakers looking to land a prize like Thelin -- which, he figures, has a potential market of $1 billion. The total market for pulmonary hypertension drugs could be far greater. Patrick Flanigan III of investment bank WR Hambrecht, who rates the stock a buy, says Thelin is the best drug of its kind. In the short run, he figures sales for the treatment of pulmonary hypertension could soar -- from $367 million in 2004 to $833 million in 2009. Flanigan expects Thelin will capture 35% of the market by 2009.
Note: Unless otherwise noted, neither the sources cited in Inside Wall Street nor their firms hold positions in the stocks under discussion. Similarly, they have no investment banking or other financial relationships with them.
By Gene G. Marcial
Before it's here, it's on the Bloomberg Terminal.
LEARN MORE