U.S.: Walking A Fine Line On The Way Out The Door
Greenspan's final Fed decisions are complicated by the two hurricanes
The easy part of the Federal Reserve's job is about finished. After a series of 11 interest-rate hikes, Fed policy is at or close to the point where it is not helping growth. Now comes the hard part. Policymakers have to decide whether they can hold steady at a neutral level, or if new business conditions dictate that the Fed must begin to lean against the economy's momentum. It's a crucial call that will be made even more complicated by rising energy costs, supply disruptions from two hurricanes, and an unanticipated rush of fiscal stimulus. As if that weren't enough to deal with, the Fed will have to consider all this while making the transition to a new regime, when Fed Chairman Alan Greenspan steps down on Jan. 31.
Against this backdrop, the chances of a policy mistake have grown substantially. Tightening too much could rattle the financial markets and knock away the supports under housing, which has been a major driver of consumer spending, according to a new study by the Fed. A consumer pullback would, in turn, reinforce recent business jitters over the impact of costlier energy. The result would be a severely weakened economy -- or worse.
But at the same time, with energy prices high, labor markets tight, and slower productivity growth lifting unit labor costs, staying at neutral could allow inflation outside of food and energy to pick up rapidly. A surprise in the core inflation numbers would force a harsh interest-rate response by the Fed that could also rattle the markets and pound the economy. Given that the policy committee on Sept. 20 recorded its first dissenting vote in more than two years, the next several Fed meetings promise to be lively affairs -- and extremely important to the outlook.
WHICH WAY WILL THE FED GO? The statement after the Sept. 20 meeting strongly suggests that for now policymakers are willing to err on the side of too much restraint, rather than too little. Contrary to market expectations, the Fed gave no hint that it was ready to stop lifting rates, even amid new energy uncertainties.
Indeed, in a shift from past views, the Fed said "higher energy and other costs have the potential to add to inflation pressures." That change is notable, because previously the Fed seemed more sensitive to the potential effect of costlier energy on growth than on inflation. The bond market had agreed with that assessment, pushing down long-term rates even as oil prices soared.
What seems different now is that high energy prices are proving to be more permanent than in the past. As a result, businesses may try much harder to mark up their prices to cover the higher energy bills. Previous Fed statements had characterized inflation expectations as "well contained," but the Sept. 20 assessment was tweaked to say they were simply "contained." Worries about core inflation have helped to push up the yield on a 10-year Treasury note to 4.3% from 4% in late August.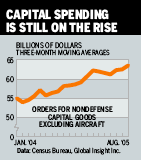 Spending">And inflation concerns are spreading. In September, the University of Michigan's survey showed a sharp rise in consumers' inflation expectations for the coming year, and the anticipated inflation rate for the next five to ten years rose to 3.1%, the highest reading in more than four years. Plus, investors' expectations about inflation can be approximated by the difference between the market yield on a 10-year Treasury and the inflation-adjusted yield for a Treasury Inflation Protected Security. This gauge has been moving up in recent weeks.
The supply shocks from Hurricanes Katrina and Rita to areas outside of energy add to potential core price pressures. Supply shocks are different from demand shocks, and they present an especially thorny problem for the Fed. Unless overall demand falls by as much as the loss of output, shortages and production bottlenecks will push up prices across a broad range of goods and services. But a lasting slowdown in demand doesn't seem likely in the second half. Labor markets remain healthy, businesses are stepping up their orders for capital goods, and a surge of government money is financing the cost of cleanup and rebuilding.
THE OUTLOOK FOR 2006 doesn't call for much of a slowdown in demand either, according to a recent survey of 43 forecasters taken by the National Association for Business Economics and presented at the NABE's annual meeting in Chicago. They look for the economy to grow 3.5% over the four quarters of 2005, and growth will average 3.3% during the second half. The economy is then expected to grow another 3.4% in 2006.
Consumers are sure to have a negative impact on demand, but not to the degree implied by the plunge in September consumer confidence. In the wake of Katrina and spiking gasoline prices, the Conference Board's index dropped 18.9 points last month, the third-largest monthly decline on record. Households sharply downgraded their assessments of both their present economic conditions and their prospects for the future.
However, consumer confidence could very likely rebound as long as labor markets remain healthy. To be sure, the Labor Dept.'s September report on payrolls will look dreadful. However, outside of Katrina's downdraft, the job markets show no signs of deterioration. Excluding Labor's tally of weekly claims for unemployment benefits in the storm-affected areas, claimant activity so far in September is averaging a shade over 300,000 new filings per week. That is slightly below the average level during the four weeks prior to Katrina.
BUSINESS CONFIDENCE does not appear to have been shaken. Based on a special post-Katrina survey of CEOs by the Business Roundtable, executives believe the storm and its aftermath will negatively affect their businesses, but only 4% said the effect would be "strongly negative." On balance, sales expectations slipped, as did capital-spending plans, compared with pre-Katrina readings, but hiring plans showed barely any deterioration. Importantly, companies involved in the hurricane recovery, such as energy, equipment manufacturing, and construction, have plans to increase their hiring.
If demand stays healthy, the Fed will have to keep hiking rates by perhaps more than the single quarter-point hike that the markets now expect. However, that could jeopardize the Fed's most delicate goal: cooling off the housing boom without creating a bust. Fed research by Greenspan himself shows that households extracted nearly $600 billion from the value of their homes last year as a result of new borrowing. The amount, which was nearly triple that taken out in 2000, equaled 6.9% of aftertax income. Clearly, the housing boom has been an enormous factor in the resilience of consumer spending. If home prices cool off too much, the resulting loss in spending could deal a blow to the economy.
Before Katrina, it seemed as if the Fed had great latitude in deciding monetary policy. But now, the uncertainties over energy, business confidence, consumer behavior, and housing mean that the Fed has much less leeway and faces a greater risk at making a policy error. Given the intense pressure looming in coming months to make the right decisions, Greenspan might even welcome his retirement when it comes.
By James C. Cooper & Kathleen Madigan
Before it's here, it's on the Bloomberg Terminal.
LEARN MORE