Brazil: Playing By The Numbers
Despite a whirlwind of political scandal, Brazil's economy is proving resilient. But that resolve will be increasingly tested if a growing controversy over alleged bribes and vote-buying in the executive branch and Congress complicates the political panorama as Brazil heads into next year's presidential elections.
President Luiz Inácio Lula da Silva's approval ratings have plunged, and on Sept. 27 five members of Congress from his own Workers Party (PT) left the party, leaving the President without a majority in Congress. Several of his top officials have resigned in connection with an alleged vote-buying scheme.
Nonetheless, da Silva shows no sign of relaxing his focus on fiscal discipline in order to regain popularity. On Sept. 23, the President signed an executive order overriding several parts of the 2006 budget law passed by Congress, including a provision that would have prevented the government from reducing spending plans established by lawmakers in the budget.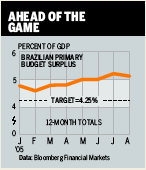 In part to stem possible investor concern over Brazil's current political turmoil, Finance Minister Antonio Palocci wants to raise the primary fiscal surplus target, which excludes interest payments on government debt. The current target for this year and next is 4.25% of gross domestic product. Steady economic growth and fiscal discipline have the primary surplus at 5.1% of GDP in the 12-month period through August.
But three years of fiscal austerity have eroded support among members of da Silva's own party. The scandals will simply make it more difficult for the government to raise the target. That means Brazil may miss a chance to trim its public debt, now at 51.3% of GDP.
More election-year spending could also halt the present trend of slowing inflation and force the central bank to cut interest rates less aggressively. After a quarter-point interest-rate cut, to 19.5%, in September, the Banco Central do Brasil is expected to follow with a series of half-point cuts. The slower the bank cuts, the costlier it will be for Brazil's government, since a large share of its debt is linked to short-term rates.
By James Mehring in New York, with Geri Smith in Mexico City
Before it's here, it's on the Bloomberg Terminal.
LEARN MORE