Can Apple--or Motorola--deliver a truly great cell experience?
By

Piper Jaffray has a report out saying that the new Rokr cell-- a joint venture by Motorola and Apple--appears to be selling below expectations. Why am I not surprised? This iPhone doesn't have Apple branding on it or the packaging, has an artificial 100 tunes limit built into it that is insulting and even the earbuds are off-the-shelf and not very special.
The real issues, however, is that neither Motorola nor Apple have a chance of delivering a terrific cell phone experience to users until the carriers give up their stanglehold on the ears of consumers. Naturally enough, the carriers want all the incremental service revenue that comes from music, movies, data or whatever flows through cell phones. But they're only average delivering on that. Compared to service in Europe and Asia, they're below average. The Rokr is not different.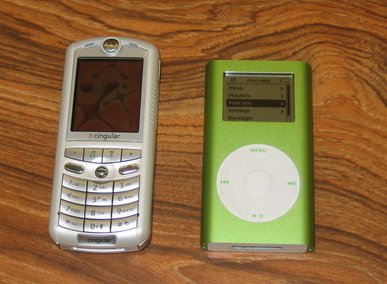 Apple succeeds when it has total control delivering the experience. The iPod is just the friendly front face of an amazing package of services--iTunes Music Store, Apple stores, music company agreements--that make people happy getting and managing their music. It can't do that with cell phones because it can't control the different parts--yet.
Motorola is actually in the same boat. Talk to people inside Motorola and they grumble all the time about partnering with carriers who won't let them deliver what they are capable of delivering. Just one example--you can't buy a Morotola phone with bluetooth in much of the country. Maybe all of the country. It drives the folks inside Motorola nuts.
What's the solution? Apple and Motorola--and Samsung and Nokia-- should move around the big carriers and do deals with new internet telephony providers. Hmmm. My guess is that they already are.