What I've Learned_John Ray
Gucci's Creative Director of Menswear reveals his modern style secrets
Words Peter Howarth
John Ray was born in Scotland and spent the majority of his childhood there. Ray's creative talent found its beginnings in his study of graphic design, and later in his work in advertising. In 1986 his interest in fashion led him to pursue a career change at Central Saint Martins College of Art and Design. In 1989, Ray enrolled at the Royal College of Art, where he earned a Masters in Menswear. There he refined his tailoring skills and developed a particular attention to detail and quality. While still astudent, he realised his designs on Savile Row, feeling dissastifsied with Royal College resources.
Upon completetion of his studies in 1992, Ray joined the creative team at Katharine Hamnett as an assistant, then head of menswear design. In 1996 he joined Gucci as a menswear consultant under Tom Ford's creative direction, and soon assumed a full-time position. In 2001 he was named Vice President of Menswear and by March 2004 he had been named Creative Director of Menswear.
Ray lives and works in London, and describes himself as an extremely private person. His personal style is classic and modern with a touch of British eccentricity. He has a keen sense of luxury that he relentlessly expresses in all his designs. Ray considers a perfectly tailored jacket and a beautiful pair of made-to-measure shoes to be central to a man's wardrobe because for a man, "the essentials in clothing are found in their quality."
Enquiries: www.gucci.com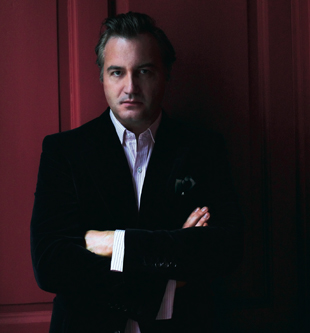 A MAN LOOKS BEST IN... good health
THE FIRST RULE OF DESIGN IS... aninspired moment
WORKING AS AN ENGLISHMAN FOR AN ITALIAN COMPANY IS... an honour
THE DEFINITION OF MODERN LUXURY IS... old-fashioned craftsmanship
THE MOST GLAMOROUS ERA IS...tomorrow
WHEN I STARTED... to dream I found everything I believed in
A GOOD IDEA IS... worth sharing
THE SECRET OF SUCCESS IS... a clear vision
MY IDEAL HOLIDAY IS... under a large tree sheltering from the Scottish rain
GREAT LUGGAGE TELLS PEOPLE... you pack a fabulous wardrobe
THE ESSENTIAL ITEM IN EVERY MAN'S WARDROBE... is the man
THERE'S A FINE LINE... in a great Picasso
MY FAVOURITE CAR IS... a Seventies' frog green Porsche
LUNCH IS... dressed crab at Sweetings
I'VE NEVER BELIEVED... in fairies
THE MOTHER OF INVENTION IS... inventionitself
MEN SHOULD ALWAYS... have good manners
WOMEN SHOULD ALWAYS... have elegance and grace
THE SECRET OF GOOD MANAGEMENT IS... agreat team and a big bonus system
THE BEST WAY TO RELAX IS... listening to the radio in the bath
I STILL DON'T KNOW... all the right answers
Words Peter Howarth
Before it's here, it's on the Bloomberg Terminal.
LEARN MORE