U.S.: America's Trade Deficit: Expect Some Storm Damage
Katrina's bill may include a steeper trade imbalance and a weaker dollar
Economists had expected the U.S. current-account deficit, the broadest measure of the nation's international balance of payments, to begin to stabilize in the second half of 2005 and perhaps even narrow in 2006. Faster growth abroad, a cooler U.S. economy, and a weaker dollar would cause improvement in the U.S. trade position. Indeed, the gap fell slightly in the second quarter. But that news preceded the summer spike in oil prices and Hurricane Katrina. Those two shocks, along with the rebound in the dollar, challenge the idea that a correction in the current account is imminent. And they revive fears that the adjustment may not be painless, as U.S. dependence on foreign financing grows ever larger.
The current-account balance is the sum of all foreign transactions, including trade in goods and services, income payments, and government transfers. For years, the main focus has been the deteriorating merchandise trade deficit as goods imports swamped exports. But now the U.S. surplus in services has been slipping, and foreign investors are earning more from U.S. assets than American investors are earning abroad.
Surging oil prices and the enormous stimulus coming from government spending on post-Katrina rebuilding threaten to make this bad situation worse. Not only will costlier oil and other energy imports directly lift the U.S. import bill but stronger economic growth, thanks to fiscal stimulus, will boost demand for non-oil imports.
Equally important, higher energy costs are slowing economic growth abroad more than they have U.S. growth, curtailing demand for U.S. exports. Moreover, so far this year the dollar is up more than 11% vs. the euro and 9% vs. the yen. Against this backdrop, it's likely that the current-account deficit, which stood at an annual rate of $778.6 billion, or 6.4% of gross domestic product in the first half, will top 7% of GDP next year.
SO FAR, FOREIGNERS remain eager to finance this massive imbalance. International investors are supplying the U.S. with some $65 billion in new lending every month without the often-predicted dire consequences for the dollar, inflation, and interest rates.
In fact, some have argued that the deficit is not a concern. In this new era of global co-dependency, emerging nations depend on developed foreign markets to support their growth, while the U.S. and other developed countries benefit as new capital flows back in for investing. Former Treasury Secretary Paul H. O'Neill once went so far as to say that the current-account deficit was "an antiquated theoretical construct."
However, this theoretical construct may run up against some hard realities in the coming year. First, with a deficit heading toward 7% of GDP, the U.S. will need foreign investors to pony up close to $80 billion per month next year, a 23% jump. Investors may well demand a higher rate of return to lend so much money. That means the dollar may have to fall substantially in order to make U.S. assets sufficiently attractive to balance the appetite for U.S. financing against the willingness of foreigners to satisfy it.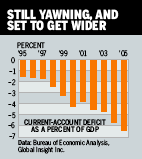 Second, government spending has taken a turn for the worse. Back in February, the louder "voice of fiscal restraint" gave Federal Reserve Chairman Alan Greenspan hope for a benign adjustment in the current-account imbalance. "If actions are taken to reduce federal government dissaving, pressures to borrow from abroad will presumably diminish," he said. Instead, federal dissaving, also known as the budget deficit, is set to grow, not shrink. Katrina costs, which could generate more than $100 billion in new financing needs by the Treasury, will add pressure on the markets.
THIRD, INTEREST RATES are set to move up. The Fed hiked the federal funds rates by another quarter-point on Sept. 20, to 3.75%. The Fed's statement suggested that Katrina effects would be temporary, and it alluded to concerns that higher energy and other costs could add to inflationary pressures. In sum, the Fed seemed to say, don't expect a pause in rate hiking anytime soon.
With rates rising, the cost of servicing America's overall volume of foreign debt of roughly $2.5 trillion will also increase. Moreover, the growing current-account deficit will add to that outstanding debt volume every year. Already, the U.S. is paying out more income on the growing stock of U.S. assets held abroad than the amount paid to American investors for foreign-issued assets. In the second quarter, the balance on income in the current account slipped into deficit from a record surplus of $17.7 billion just 1 1/2 years ago .
Given the dearth of consumer savings and the outright drain on the national piggy bank coming from the federal deficit, the U.S. has little choice but to borrow from abroad to finance its investment and growth.
Generally, foreign confidence in the performance of the U.S. economy and the soundness of its economic policies will determine the overseas appeal of U.S. stocks and bonds and the willingness to set up operations in the U.S. However, foreign appetites can wane for reasons other than U.S. growth prospects. For instance, Japan has been a key buyer of U.S. securities in recent years. But if Japan's economy is finally turning the corner, then Japanese investors may prefer to invest at home.
IF FOREIGN INVESTMENT PATTERNS shift, the dollar is sure to resume its decline, and that has consequences for inflation and interest rates. In the past, foreign producers preferred to guard their market share by absorbing most of the dollar's decline and allowing their profit margins to shrink. But with businesses worldwide facing sharply higher energy costs, foreign manufacturers may have to raise their prices to cover their fuel bills. If inflation picked up at the same time that foreign investors began to demand a better rate of return to buy U.S. securities, the end result would be much higher interest rates, perhaps quite quickly since market sentiment, especially where inflation expectations are concerned, can shift on a dime.
A rapid rise in interest rates would slow U.S. growth. The housing sector, which has become hugely dependent on cheap mortgages to boost demand, would be most vulnerable to a sudden hike in long rates.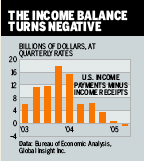 In turn, the Fed would be faced with price pressures from abroad, even as fiscal stimulus is lifting inflation at home. To fight inflation on both fronts, the Fed may have to hike interest rates more aggressively than the financial markets expect. However, higher rates would increase the amount of interest going to foreigners, causing further deterioration in the current account.
True, worries about the current-account deficit's effect on growth, interest rates, and inflation have arisen before in this business cycle. And those fears have taken on almost a "cry wolf" quality -- since foreigners still seem willing to lend the U.S. money and currency traders keep their faith in the value of the dollar.
But the pressure on the current account is growing again. And it's important to remember that in the bedtime story, the wolf does eventually show up.
By James C. Cooper & Kathleen Madigan
Before it's here, it's on the Bloomberg Terminal.
LEARN MORE