Agenda_Travel
Tee off for a tour of Ireland's spectacular golf links
Words Philip Watson
A well-known axiom among golfing aficionados is that there is a whole heap of difference between a golf course and a golf links. Golf courses are the staple of the swing world, the catch-all that encompasses 18-hole parklands ranging from your local municipal hack-track to glorious championship fairways.
Golf links, however, are something special, something apart. Large, open, windswept stretches of sweeping land beside the sea, links are considered golf's most scenic and demanding challenges. Many believe that until you've played a famous links course, you haven't really swung a club at all.
If Scotland, and St Andrews, is golf's spiritual home, then Ireland is the motherland of the links. A golfer's paradise with more than 400 courses, Ireland boasts some of the most devilishly difficult and dramatically beautiful links courses in the world, many of which are regularly ranked in the top 100. The greatest concentration can be found in the remote and spectacular southwest of Ireland, a tour of which provides an unbeatable driving holiday.
Start at the village of Waterville in the southwest of the famous Ring of Kerry, and head to its inimitable, award-winning, championship links. Located on a sandy peninsula bounded by the breakers of the Ballinskelligs Bay and the gentler waters of the River Inny, Waterville is a classic of its kind: tough, exhilarating, breezy and bracing. It's also fiendishly deceptive - a fact best summed up by the teasing name of the first hole, "Last Easy". A favourite of such players as Tiger Woods, Mark O'Meara and David Duval, Waterville has recently been made even more taxing and exciting by leading course designer Tom Fazio.
From Waterville, drive northeast past the splendidly named McGillycuddy Reeks, the highest mountain range in Ireland, on to the still, misty lakes of Killarney and the isolated, Irish-speaking Dingle peninsula. From here you can drive to the north of Kerry along the coast to another renowned Irish golfing mecca: Ballybunion.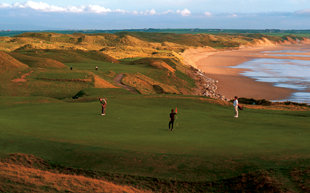 A links that meanders through towering dunes on the shores of the Atlantic, Ballybunion offers two distinct contests: the Old Course, once described by Tom Watson as "the best in the world", and the newer Cashen Course, which was created by top golf architect Robert Trent Jones Sr, both stern tests.
Over the Shannon estuary and on into County Clare, you come to legendary Lahinch. Like Ballybunion, there are two courses here: a rugged and uncompromising championship Old Course and the slightly less formidable Castle Course. The par five 4th hole on the Old Course is typical of the trouble that often lies ahead on this links - you play over a soaring sand dune to a blind green. It's times like these when you begin to understand the true nature of links courses: you don't fight them, you go with them.
Nearby you can also find two of Ireland's most popular and unforgettable attractions: the vertiginous cliffs of Moher, rising over 200 metres above the sea; and the rocky, eerily bare limestone plateau of the Burren.
Further north into County Galway you head west across the flat Connemara moorlands backed by the Twelve Bens mountain range - and on to the tiny village of Ballyconneely. Out on a narrow headland that affords panoramic vistas along the sculpted coastline, past peaty boglands, derelict castles and abandoned cottages, you finally reach one of the world's wildest and wooliest golf links: Connemara.
At this links the pleasure is far more than just sporting - the views here have a majesty and magnificence, surrounded by the churning ocean. It's about as far you can go at the edge of Europe. As is often said in these parts, the next parish is Boston.
GOLF LINKS
WATERVILLE GC Waterville, Co Kerry
Tel: + 353 66 947 4102
http://www.watervillegolflinks.ie
Green fees from €105
BALLYBUNION GC Ballybunion, Co Kerry
Tel: + 353 68 27146
Green fees from €95
LAHINCH GC Lahinch, Co Clare
Tel: + 353 65 708 1003
Green fees from €120
CONNEMARA GC Ballyconneely, Clifden, Co Galway
Tel: + 353 95 23502
Green fees from €55
TAILOR-MADE GOLF TOURS
ONLINE GOLF TRAVEL
Tel: + 353 1 824 6210
WHERE TO STAY
GREAT SOUTHERN PARKNASILLA
Sneem, Co Kerry
Tel: + 353 64 45122
doubles from €120
DROMOLAND CASTLE
Newmarket-on-Fergus, Co Clare
Tel: + 353 61 368 144
doubles from ¤220
ASHFORD CASTLE
Cong, Co Mayo
Tel: + 353 94 954 6003
doubles from €305
Words Philip Watson
Before it's here, it's on the Bloomberg Terminal.
LEARN MORE