U.S.: Katrina Will Force Hard Choices
Rebuilding costs and planned tax relief could swell the deficit
In coming weeks, Congress will begin to allocate funds to rebuild the areas devastated by Hurricane Katrina. At the same time, the Bush Administration remains dedicated to reforming the tax code and making permanent the 2001-03 tax cuts at a cost of $1.85 trillion, even as it budgets for a newly enacted $286 billion transportation bill and the wars in Afghanistan and Iraq.
In this case of levee vs. levy, it looks as if the dams have won -- at least for now. On Sept. 12, the Senate leadership put off a vote on the 2006 budget reconciliation bill. That includes delaying some actions on tax relief in deference to emergency spending plans. It has postponed plans to extend tax cuts on capital gains and dividends, currently scheduled to expire in 2008. It has tabled voting on repealing the estate tax, along with a $35 billion package of spending cuts to Medicaid and other entitlements.
Still, the moves appear to have been made more out of political motives than fiscal prudence. Since the tax cuts don't expire for a few years, there's plenty of time for Congress to take up the issue later on. House leaders have already vowed to bring a $70 billion tax-cut measure up for a vote. And Treasury Secretary John W. Snow said on Sept. 13, "Now is not the time to increase the tax burden" -- while also promising that the White House would halve the deficit by 2009.
However, officials on both sides of the aisle are starting to wonder how cutting taxes and whittling away the deficit can be achieved in light of the massive bill for Katrina; some congressmen have estimated that the final tab could hit $200 billion.
ALREADY, ECONOMISTS are raising their deficit forecasts for fiscal 2006, which begins on Oct. 1. Before Katrina, the Congressional Budget Office had projected the 2006 red ink to total $314 billion. Now, some private economists think next year's deficit will surpass the record of $412 billion set in 2004, putting the deficit as a percent of gross domestic product in the range of 3% to 3.5%.
Massive amounts of red ink threaten to create a budgetary conflict that will affect the economic outlook for 2006 and beyond. Congress may finally have to face hard choices regarding spending. And the White House may have to accept that it cannot pay for Katrina and change the tax code in the sweeping ways it had hoped, while paying for huge initiatives on Social Security and Medicare. At least, that can't be done without risking negative reactions from the financial markets and adverse consequences to the economy.
Deficits do matter. The trend in government finances can stimulate or subtract from economic growth. Higher government borrowings can draw money away from private projects. This "crowding out" of private investment can raise interest rates for all borrowers, including home buyers. Meanwhile, fiscal stimulus is set to pump up growth just as Federal Reserve officials are trying to keep a lid on overall demand growth and inflation.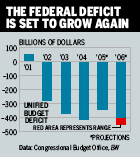 Currently, the government's relief effort is adding about $2 billion a day to the economy. Given the rapid approval of federal relief funds, the rebuilding of Louisiana, Mississippi, and Alabama could quickly offset the drag coming from job losses and business closings in the area.
For example, the initial $62.3 billion in aid is set to be paid out by early October. If that money is spent over the next three months, it will add some 2 percentage points to overall growth in U.S. real GDP, spread over the third and fourth quarters. And there is speculation that the Administration will ask for an additional $50 billion soon.
BY EARLY 2006, stimulus from rebuilding should be kicking in. The CBO estimates that each set of 100,000 homes rebuilt will add 0.2 points to GDP growth. Then there's the unestimated loss of business and public structures that will be replaced using insurance payouts or government aid.
Bear in mind that this fiscal stimulus will be added to an economy that was doing very well before Katrina. The August data show that while overall retail sales dropped 2.3%, non-auto sales were up 0.5%, even excluding higher-priced gasoline. Industrial production in the factory sector increased 0.3% last month. And in July, the trade deficit narrowed to $57.9 billion, from $59.5 billion in June, a surprise plus for third-quarter GDP growth.
To be sure, higher energy prices are shifting money away from spending on other items. But the latest data show national gasoline prices dipped to $2.96 per gallon on Sept. 12, from the record $3.07 a week earlier, after most refineries hit by Katrina came back online. And with the futures price of gasoline for October delivery now below its pre-hurricane level, further declines at the pump are on the way.
SURGING OUTLAYS for post-hurricane relief and rebuilding and their deficit implications will complicate Fed decision-making on monetary policy, both in the short run and further down the road. Most immediately, the Fed meets on Sept. 20 to decide whether to raise its target interest rate by another quarter point, to 3.75%.
Some observers are expecting the Fed to pause in its rate-hiking pattern at that meeting, while others expect a pause later on. Even if the Fed hikes on Sept. 20, analysts will dissect the post-meeting rate announcement for hints of what could possibly trigger the Fed to pause at either its Nov. 1 or Dec. 13 meetings.
But given that the new burst of spending will add to the economy's momentum, the Fed will have to weigh the risk that pausing could heighten inflation pressures in 2006, vs. concerns about possible economic weakness coming from Katrina uncertainty and high fuel bills.
Rising energy costs already threaten to filter their way into higher prices for other items, even as tighter labor markets begin to push up labor costs. Later on, as deficits grow even larger, the red ink will require funding, possibly at the expense of higher interest rates that could thwart private-sector investment and rob the economy of some long-run growth potential.
On the fiscal side of economic policy, budget makers must deal with the notion that, while allowing the tax cuts enacted in 2003 to expire would improve the deficit outlook, it would also slam the economy.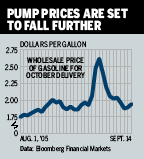 In particular, the financial markets have already priced in the Administration's planned extension of the tax cuts for capital gains and dividends. If they are not extended, it would likely be a blow to stock prices. Plus, companies planning to expand their dividend programs, which would be a plus for personal income, might reconsider. Likewise, not extending the fix to the alternative minimum tax set to expire at yearend would be a $30 billion tax hike on households. And there is the long-run need to shore up Medicare and Social Security funds before the Baby Boom generation retires.
The rebuilding required by Katrina highlights a critical problem Washington has created by running massive deficits year after year. There is no fiscal cushion when a disaster demands a government response. Compassion may be priceless, but it is not without costs.
By James C. Cooper & Kathleen Madigan
Before it's here, it's on the Bloomberg Terminal.
LEARN MORE