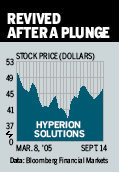 Oracle's move to acquire Siebel Systems (SEBL ) has refocused pros' attention on Hyperion Solutions (HYSL ), rumored to have been a target on Oracle's busy radar screen. Richard Parower of investment firm J. & W. Seligman, which owns shares, says Hyperion, a provider of software for business performance management, is still bait -- for Oracle, IBM (IBM ), or SAP (SAP ). But Oracle may have to wait till it digests Siebel. Charlie Chen of investment bank Needham also says Hyperion, now at 46, is a buyout because of its strength in the ``attractive growth segment of enterprise software.'' It helps businesses consolidate their books and comply with regulations such as Sarbanes-Oxley. Among its 10,000 customers: IBM, Citigroup (C ), General Electric (GE ), General Motors (GM ), Novartis (NVS ), Toyota (TM ), and Verizon (VZ ). Both Parower and Chen figure Hyperion is worth 60 in a buyout. On fundamentals, it is worth 54, says Chen, who expects profits of $2.05 a share for the year ending next June, and $2.23 in fiscal 2007, vs. $1.90 in 2005. With a cash stash of $450 million, or $10 a share, he says the stock is cheap, based on profits and sales, relative to its peers. CEO Godfrey Sullivan won't comment on Hyperion as a target. ``Our value is in helping our customers in the best possible way as a stand-alone company,'' he says.
Note: Unless otherwise noted, neither the sources cited in Inside Wall Street nor their firms hold positions in the stocks under discussion. Similarly, they have no investment banking or other financial relationships with them.
By Gene G. Marcial
Before it's here, it's on the Bloomberg Terminal.
LEARN MORE