Cooper Tire Could Really Make Tracks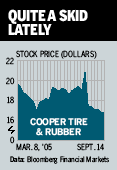 The street is steering clear of Cooper Tire & Rubber (CTB ). Since the company posted a second-quarter loss, analysts have downgraded the stock and scaled back forecasts. Shares dropped from 20 on Aug. 1 to 16.70 on Sept. 14. A strike at Cooper's Texarkana (Ark.) plant brought a loss of 10 cents a share in the June quarter, vs. a profit of 45 cents a year ago. The jump in natural gas prices also jacked up production costs, and demand for replacement tires slowed. But Dave Young of Paragon Wealth Management is buying: ``Cooper is a good contra-energy play,'' he says. Fears that oil will keep on rising and that tire demand will be soft are overblown, says Young. The stock has a favorable low-risk, high-reward profile, he notes. When the stock falls this low -- close to its book value of over 17, it usually scores a big annual gain, says Young. It happened in 2001 and in 2003, when the stock nearly doubled. (Paragon's Top Flight Portfolio is up 300% since its start in 1998, vs. 42% for the Standard & Poor's 500-stock index.) He expects earnings in 2005 of 26 cents a share, down from 2004's $1.12. But he sees a rebound in 2006 to $1.01 and to $1.23 in 2007 because of an expected rise in demand, price hikes, and cost-cutting. His 12-month target: 23.
Another bull is Saul Ludwig of Key Banc Capital Markets, which has done business with Cooper. He rates it a buy.
Note: Unless otherwise noted, neither the sources cited in Inside Wall Street nor their firms hold positions in the stocks under discussion. Similarly, they have no investment banking or other financial relationships with them.
By Gene G. Marcial
Before it's here, it's on the Bloomberg Terminal.
LEARN MORE