New Yorker's Blogging State of Mind
Some thoughts from the New Yorker editor on why they choose a particular cartoon on blogs that's making the rounds online.
Heather Green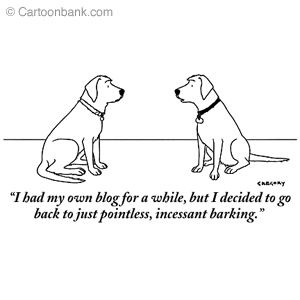 © 2005 Alex Gregory-cartoonbank.com
This cartoon by Alex Gregory, which ran in the New Yorker on Sept. 12 is making the rounds online. The company's pr put me in touch with Bob Mankoff, cartoon editor of The New Yorker and president of the Cartoon Bank service, which is owned by the New Yorker. He emailed me a little about why they chose this cartoon. As an aside, I was intrigued that though the New Yorker and their pr seem aware of the copyright violation that's going on with this, they appear unfazed. (Ironically and full disclosure, I got their permission to republish these here, just to be safe...)
In any case, here's Mr. Mankoff:
"While many cartoons on blogs have been submitted and rejected by The New Yorker, this one, seemed to us, to perfectly capture the irony inherent in a communications phenomenon that permits so many to say so little about so much.I think it will become a classic, in every way as emblematic of its time, as this other cartoon, also involving dogs, published in 1993 by Peter Steiner was of its."
I definitely think he's right!
Before it's here, it's on the Bloomberg Terminal.
LEARN MORE