Inquiring minds want to know.
by

What do Google's Marissa Mayer, GE's Beth Comstock and P&G's Claudia Kotchka have in common? They are all innovation champions within their companies. Dev Patnaik of the innovation consultant Jump Associates thinks there are 20 or more women innovation champions at major U.S. corporations, including companies that have long been dominated by male engineers and scientists. So what's up with that? Of course it's a great thing, but a mystery as well. In corporations run by men for generations, women overwhelming play THE key role as change agents promoting design, ideation, paradigm shifting and all that good stuff. They are at "C" suite power levels, with direct access to the CEO. But what is the combination of skills, values and whatever that make women so good at this difficult job? Integrators, outsiders, balancers, design-sensitive, flexible….Claudia, Beth, Marissa, what is it?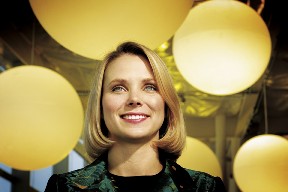 Google's Marissa Mayer
My bet is that the market for such incredible talent is tighter than the market for CEOs. Head-hunters, take note.
Before it's here, it's on the Bloomberg Terminal.
LEARN MORE