U.S.: Katrina's Impact Depends On How Business Reacts
Loss of confidence could be just as dangerous as higher energy costs
To a great extent, Katrina has rendered useless much of the economic data due out in coming weeks. But the reports will have value in one critical way: They should generally show that overall growth prior to the hurricane had a great deal of momentum, especially in the labor markets -- a factor that will help the economy weather the storm's impact.
Typically, a hurricane is not easy to spot in the national data. A storm affects only a small area of the U.S., and businesses reopen and people get back to work within the time it takes to tot up a quarter's gross domestic product. Past hits to monthly industrial output and payrolls that had been discernible were often swallowed up by broader economic trends after a month or so.
This time is different. Because Katrina hit America's prime energy corridor, she brought with her a veil of uncertainty. Businesses and households must weigh the results of curtailed oil and gasoline output. They must also consider the broader economic drag possible from shipping disruptions and product shortages.
Most important, the question of future energy prices looms large. Fortunately, refinery damage looks limited, the restoration of electric power to healthy refineries is under way, and the two big pipelines that carry gas and other petroleum products from Houston to New York are already back to operating near full capacity.
What's more, worries about gas shortages are easing. The futures price for wholesale gas has dropped 30% from its panicky high of $2.92 a gallon on Aug. 31, down to $2.02 on Sept. 7. That's close to pre-Katrina levels, suggesting the spike in retail prices should be short-lived. In fact, the current wholesale price implies pump prices could fall back to around $2.67 a gallon nationally.
The better news on energy may be causing financial markets to reassess Katrina's effect on economic activity. With prospects improving, stock prices rebounded strongly on Sept. 6, and the yield on a 10-year Treasury note rose to 4.09%, the largest one-day rise in a month.
STILL, POST-DISASTER UNCERTAINTY could have its biggest influence on the business sector, where confidence in the economic outlook is crucial to plans for everything from equipment spending to inventory stocking to hiring. Any shifts in attitude and decision-making in the boardroom could adversely affect the broader economy beyond Katrina's direct impact.
That's why the readings on pre-Katrina business confidence are so important. The Business Roundtable's latest survey of CEOs shows optimism up a bit before the hurricane and holding at a high level. Indeed, 83% of CEOs expected sales to keep rising, 54% expected to lift their capital spending, and 76% planned to either expand payrolls or hold them at current levels. Moreover, Roundtable Chairman Hank McKinnell noted that "the strength in the economy's fundamentals just prior to the disaster may prove to cushion its full impact."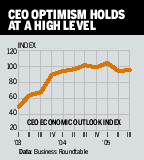 Any pullback by businesses, especially on hiring, would make it that much tougher for consumers to handle surging energy costs. If average gas prices stay at $3 per gallon by the end of September, from $2.22 at the end of June, that 35% increase would cost households an extra $93 billion. Measured at an annual rate, that's enough to soak up 4.1 percentage points of any expected gain in aftertax income during the same three-month period. Existing savings and new borrowing, supported by past wealth gains from rising home values, will provide some offset, but consumer spending will take a big hit in coming months, just as retailers are gearing up for the important holiday shopping season.
How big? Although consumer purchases and overall GDP growth in the third quarter will be affected to some degree by Katrina's aftermath, the bulk of the impact will most likely be concentrated in the fourth quarter. Higher gas prices alone could cut growth in fourth-quarter consumer outlays by some 1.5 to 2 percentage points from what it would have been if pump prices had held at July levels. The Congressional Budget Office estimates that Katrina could shave 0.5 to 1 percentage point from overall economic growth in the second half.
SO FAR SOLID JOB GROWTH has ameliorated the blow to consumers from higher fuel costs. Nonfarm businesses expanded their August payrolls by 169,000 workers, and the Labor Dept. said its count of June and July jobs was 44,000 higher than its first estimate. That brought average monthly job gains in July and August to 205,500, slightly above the the pace for the entire year. It was fast enough to keep shrinking the unemployment rate, which dipped to a four-year low of 4.9% in August.
The continued tightening in labor market conditions runs in line with the recent downshift in new jobless claims and the upbeat view of job markets seen in the Conference Board's survey of consumer confidence. Of course, given the extended business closings in the wake of Katrina, the September employment report could very well show an outright drop in jobs nationwide, and the jobless rate could pop back up above 5%.
But what will matter more is how much jobs bounce back in October. A rebound in employment this autumn will be determined in part by how quickly the rebuilding effort begins. Congress approved President George Bush's request for $10.5 billion in emergency aid to the area and another $51.8 billion was requested on Sept. 7. But job growth will depend greatly on Corporate America's perception about this expansion's strength in the wake of the hurricane.
ALSO IMPORTANT, Katrina will be very much on the minds of Federal Reserve officials when they meet to set monetary policy on Sept. 20. Several Fed watchers now think the Fed will pause in its 16-month-long strategy of raising short-term interest rates, if not at the next meeting, then later in the year.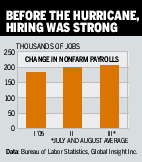 However, Katrina threatens to cut the economy two ways. Besides being wary of the drag on growth, policymakers will also be concerned that higher energy costs are pumping up the prices of other goods and services. In this regard, the post-Katrina rally in the bond market, which pushed the yield on a 10-year bond down to 4.02% in late August, seemed overblown. Bond traders appeared to be focusing solely on the growth impact rather than on the Fed's pre-hurricane worry about pass-through effects from costlier energy.
After the September meeting, a Fed respite is likely only if disruptions to shipping and energy are long-lasting. Fed Chairman Alan Greenspan met with Bush and Treasury Secretary John W. Snow on Sept. 8 to discuss the economy and Katrina. Afterward, Snow said the chairman shared his view that the effects will most likely be temporary.
The experience of recent years shows that it's easy for a shock to knock a weak economy for a loop. But a healthy one is a lot more resilient. Unless business sentiment takes a lasting turn for the worse, and $3.50 gas hangs around a long while, all the latest signs indicate that today's economy remains strong enough to take Katrina's blow and keep chugging ahead.
By James C. Cooper & Kathleen Madigan
Before it's here, it's on the Bloomberg Terminal.
LEARN MORE