CVS' Ever-Expanding Aisles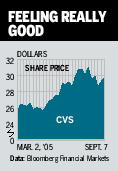 Expect CVS (CVS ) (CVS), the largest U.S. drugstore chain, to get bigger -- in size and profits. So argues Joseph Agnese of Standard & Poor's (MHP ), who rates CVS a five-star "strong buy." A key driver is the 1,268 stores it acquired when it bought Eckerd a year ago. CVS now owns more than 5,400 stores. Agnese sees revenue growth of some 20% in 2005, aided by the 10%-to-12% rise from buying Eckerd. There's potential for more improvement, he notes, with the Eckerd stores' yearly sales per square foot of $356, vs. $834 in core CVS stores. The Eckerd stores are a perfect fit, he says, because they sell more so-called front-end goods -- nonpharmacy products such as over-the-counter drugs, cosmetics, snacks, even T-shirts.
They deliver wider margins than prescription drugs, which account for 80% of total CVS sales. The aging population and improving pipeline of new drugs, he says, will help CVS achieve its goal of 15% overall long-term earnings growth. This year, Agnese expects CVS to open 125 new stores, up from 88 in 2004. He has upped his 2005 earnings estimate to $1.39 a share (from $1.34) on sales of $37.7 billion, and his 2006 estimate to $1.65 (from $1.51) on more than $40 billion in sales. Agnese's 12-month target for the stock, which rose from 25 on Mar. 2 to 29.85 on Sept. 7, is 38. CVS owns 330 stores in the Gulf area, but only 12 remain closed, says spokesman Mike DeAngelis. SunTrust Robinson Humphrey's David Magee doesn't think Hurricane Katrina will significantly impair total sales and earnings. He rates CVS "outperform."
Note: Unless otherwise noted, neither the sources cited in Inside Wall Street nor their firms hold positions in the stocks under discussion. Similarly, they have no investment banking or other financial relationships with them.
By Gene G. Marcial
Before it's here, it's on the Bloomberg Terminal.
LEARN MORE