Australia: Slowly Letting The Air Out Of The Bubble
The Reserve Bank of Australia is seeing the start of a consumer soft landing, helped in part by a cooling housing market. Policymakers from the U.S. to Europe, who are dealing with their own hot housing sectors, want to see if the RBA has succeeded in deflating its housing bubble without wrecking the economy.
Real gross domestic product grew by a larger-than-expected 1.3% in the second quarter, after a revised 0.5% gain in the first. Business investment powered the second quarter advance, while consumer spending was lackluster.
Slower consumer demand is why real GDP is expected to grow well below 1% in the second half. Households are feeling the brunt of rising energy costs and leveling home prices. The cost of a gallon of gasoline in Australia now averages $1.21 per liter (U.S. $3.51 per gallon), a jump of 27% since the beginning of the year.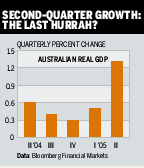 At the same time, past interest-rate increases by the RBA have deflated the housing market at a rapid clip. In the second quarter, home prices in major cities were down 0.1% from year-ago levels. That followed three years of double-digit gains. With budgets under stress, consumers cut back on shopping and borrowing in July.
What worries analysts is how low home prices could go. A sharp drop could upset consumers and trigger a pullback in demand. So far, solid labor markets have offset housing's drag. In July the jobless rate was a low 5%, with 12,700 jobs added.
For now the business sector seems ready to pick up some of the slack. Second-quarter business investment jumped 6.8%, and the amount expected to be spent over the next year is larger now than in the projections of the first quarter.
Global demand for raw materials is prompting commodity producers and exporters to boost their capital investment. However, the drop in consumer demand is falling back on the manufacturing sector. Factory production and orders fell in August.
The slowdown in demand is easing upward pressure on inflation and lessening the need for more interest-rate hikes. The RBA did the expected on Sept. 7 and left its cash target rate unchanged at 5.5%. Analysts anticipate monetary policy to remain on hold well into 2006.
By James C. Cooper & Kathleen Madigan
Before it's here, it's on the Bloomberg Terminal.
LEARN MORE