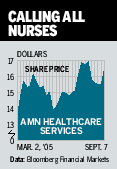 In the wake of the Katrina catastrophe, demand for health-care services to alleviate the suffering has exploded. One company that will help fill the gap, says analyst James Janesky of investment firm Ryan Beck, is AMN Healthcare Services (AHS ) (AHS), the largest national supplier of temporary nurses. Health-care providers, he says, will need to turn to staffing companies as many hospitals in the region have become inoperable -- and patients have been relocated to facilities in nearby Florida, Georgia, and Texas. Even when these hospitals are back in operation, they won't have enough staff to handle the expected surge of patients, says Janesky. They will have to depend on outside sources, such as AMN. Exposure to toxic chemicals and bacteria in the cleanup efforts, he figures, will put further strain on health-care facilities. AMN recruits nurses and health-care professionals in the U.S. and overseas and places them on temporary assignments in hospitals and health-care clinics, which pay AMN for the temps. Some 93% of them are nurses; the rest are therapists and technicians. Health-care staffing is a $10 billion business, 65% of which comes from nursing help. AMN, now at 16.51 a share, is trading at 18 times Janesky's 2006 earnings estimate of 85 cents a share -- a big discount to its peers, notes Janesky. He sees it hitting 21 in a year. His 2005 estimate is 64 cents, vs. earnings of 55 cents in 2004. In 2004, it had more than 6,000 contracts for nurse staffing. Janesky says that he will raise his estimates depending on the increase in business due to Katrina. (Ryan Beck has done banking for AMN.) Also bullish on AMN are SunTrust Robinson Humphrey and Merrill Lynch (MER ).
Note: Unless otherwise noted, neither the sources cited in Inside Wall Street nor their firms hold positions in the stocks under discussion. Similarly, they have no investment banking or other financial relationships with them.
By Gene G. Marcial
Before it's here, it's on the Bloomberg Terminal.
LEARN MORE