U.S.: Why Growth Could Still Stay On Track
Strong profits and cash from faster job gains will help the economy cope
Throughout the summer, rising energy prices were the major topic of any discussion of the economy's future. Now, Hurricane Katrina has added her own stamp on the outlook for the second half. Residents of Louisiana, Alabama, and Mississippi are still tallying up the human and financial losses, as Katrina could shape up to be the costliest hurricane in U.S. history.
Unlike the demand-driven surge in oil prices before Katrina, a supply shock could be more damaging if drilling and refinery production is severely curtailed. Pre-hurricane gasoline prices held steady at $2.61 per gallon on Aug. 29, but the jump in crude prices -- they climbed to over $70 per barrel after the hurricane hit land -- suggests more increases are on the way. Forecasts generally assume a modest disruption to refining output, causing only a temporary rise in energy prices. And on the plus side, rebuilding will offset any drop in demand caused by store closings and business losses (page 32).
Even before Katrina, higher energy costs were already having a negative impact, the biggest burden falling on lower-income families and transportation-related industries such as trucking and airlines. And the Federal Reserve noted at its Aug. 9 policy meeting, according to the minutes, that higher energy prices were "likely to be a significant drag on consumption." After charging into the third quarter with a full head of steam, helped in large part by the steep discounting among auto makers, demand is probably easing right now and will end the year at a more moderate pace.
But bear in mind that real gross domestic product in the third and fourth quarters will probably grow close to the 3.6% annual rate averaged in the first half. That means, in a year when oil prices may average close to $60 a barrel, real GDP will very likely advance by about 3.6%. That would be down only a bit from the 3.8% pace in 2004, when oil prices averaged $41.
To be sure, if the damage to oil refineries is extensive enough, the price of gas could head even toward $4 per gallon and exert a severe drag on consumer spending and rattle business confidence. But unless that occurs, the crux of the outlook is this: As long as companies are making money, spending it, and hiring more workers, this economy seems set to withstand the impact of today's higher fuel prices.
WHAT EXPLAINS THE RESILIENCE? The abundance of cash coming from faster job growth and strong profits is enabling the economy to cope. Income growth is solid enough to cover the extra energy bills for the consumer sector overall, and homeowners continue to tap into their home equity to finance big-ticket purchases. That's why consumers are willing to snap up a bargain, whether it be a new car or back-to-school denims. Plus, corporations are sitting on a boatload of cash, thanks to double-digit earnings growth. So they are moving ahead to rebuild inventories and complete capital projects.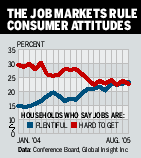 Also, financial conditions remain accommodative. Despite the Fed's hikes in short-term interest rates, bond yields remain low. The yield on 10-year Treasury notes has fallen from 4.4% on Aug. 8 to barely above 4% on Aug. 31, a drop that will support housing and refinancing activity. The cost of borrowing, whether for a new home or a new warehouse, is cheap, and banks are eager to lend.
TO SEE HOW ENERGY is affecting households, just look at the Conference Board's report on consumer confidence. Its August index rose to 105.6, from 103.6 in July. Expectations for the next six months rose, but the bigger gain was in the assessment of current conditions. That index jumped from 119.3 to 123.6, a four-year high.
The rise in confidence defies conventional wisdom that sticker shock at the pump should be dimming consumer spirits. But the board's report supports the notion that the labor markets are far more important to consumers than the price of energy. And the board said that households view the employment picture as "upbeat." The percentage saying jobs are plentiful rose to 23.5% in August from 22.9% in July, while the percentage who think jobs are hard to get slipped to 23.2% from 23.8%. This was the first time since October, 2001, that more consumers thought jobs were plentiful than those who said they were scarce.
Confidence is sure to dip in September, given the aftermath of Hurricane Katrina and the further jump in oil and gasoline prices. Spirits sagged last September and October after the South was hit by four hurricanes in quick succession.
In fact, Katrina will probably skew much of the data for September and beyond in a manner similar to last year's patterns. Store and factory closings could hold down retail sales and industrial production in September, but then the rebuilding effort will probably boost sales and production, including residential construction, later on.
The foreign-trade data will also be affected since the ports in the flooded areas around the Gulf of Mexico handle about a third of U.S. export and import volumes.
FROM AN ECONOMIC STANDPOINT, the biggest impact from the hurricane is likely to be a swing in corporate profits. Economists at Capital Economics Ltd. point out that last year's hurricanes subtracted $23.3 billion in profits economywide, comprising uninsured losses to businesses as well as net insurance settlements. Some early estimates of the damage from Katrina's fury are already greater than that.
A third-quarter drop in profits will follow a double-digit gain posted in the second quarter. The latest numbers from the Bureau of Economic Analysis show that corporate profits from current production rose 17.7% from the previous year, and profit margins of nonfinancial corporations expanded further. Earnings are strong because demand in the second quarter was equally robust. Revisions to the data show real GDP grew at an annual rate of 3.3% last quarter, close to the originally reported 3.4%.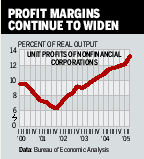 As the third quarter began, companies were using their profits to beef up lean inventories and to expand and modernize operations. Manufacturing inventories rose 0.5% in July to a four-year high. But stockpiles are still not excessive given the rapid pace of factory sales, a plus for orders and production in coming months.
Ordering and output will increase, however, only as long as companies believe demand will stay strong. The new danger is that Katrina could throw a damper on executives' assessments of the economy's future performance.
This uncertainty adds to the risk that corporate caution could exert a powerful drag on the economy beyond the fourth quarter. Just as in brief instances in 2003 and 2004, hesitancy among companies worried about demand could cause businesses to scale back or delay their spending and hiring. Weak job growth would then cause consumers to shop less and save more. To the extent that scenario plays out, it could rob the economy of momentum heading into 2006.
By James C. Cooper & Kathleen Madigan
Before it's here, it's on the Bloomberg Terminal.
LEARN MORE