Healing Ahead For Kinetic Concepts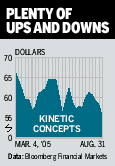 Kinetic Concepts (KCI ), which markets wound-healing and tissue-repair devices, was a health-care darling at its initial public offering in February, 2004, which raised $540 million. Then at 30, the stock now trades at 55. Kinetic specializes in trauma wounds, amputations, and ulcers -- and serves hospitals through 138 U.S. and 69 overseas service centers. Jordan Estra of Stanford Group says Kinetic's business will explode with new applications for foot wounds of bedridden diabetics. It has "an excellent technology and business structure" says Estra, whose price target is 85. But the stock, down from 76.30 on Dec. 31, has been hit by concerns that it could lose lucrative home-care reimbursements with the downsizing of Medicaid. And although Kinetic filed a patent-infringement lawsuit against San Diego rival BlueSky, investors are still jittery about new competition. Estra says Kinetic has won a similar case in Europe. And even if it loses, diabetes treatment remains a huge market. Ryan Rauch of Jefferies (JEF ), who reiterated his 75 target on Aug. 30, adds: "The shorts are all over it, but it's better than people believe." Second-quarter profits of $39.8 million beat Wall Street and were up 66% from a year ago. Rauch sees earnings of $2.24 a share for 2005 and $2.78 for 2006. The stock is cheap, he says, trading at 19 times earnings, with earnings growth of 25%.
Note: Unless otherwise noted, neither the sources cited in Inside Wall Street nor their firms hold positions in the stocks under discussion. Similarly, they have no investment banking or other financial relationships with them.
By Mara Der Hovanesian
Before it's here, it's on the Bloomberg Terminal.
LEARN MORE