Canada: Gingerly Tightening Monetary Policy
Last year the Bank of Canada took monetary policy on a tricky maneuver. It kept its target interest rate at an unusually low 2.5% to buoy the trade-sensitive economy, which was straining under the weight of a 25% rise in the Canadian dollar. So far, so good. Based on the Aug. 31 report on second-quarter gross domestic product, the economy is firming up nicely.
Now comes the hard part: Finding the level of interest rates that will prevent the economy from overheating and keep inflation under control. By the bank's own metrics, the economy is already operating perilously close to full capacity, and growth is set to accelerate in the second half to a pace that will most likely breach those bounds.
Real GDP grew at an annual rate of 3.2% last quarter, up from 2.1% in both the first quarter and last year's fourth quarter. But those modest numbers mask continued robust growth in domestic demand, which has advanced at an annual rate of 4.5% over the past three quarters. The top-line GDP numbers reflect the deteriorating trade balance in the fourth and first quarters and a sharp slowing in inventory growth in the first and second.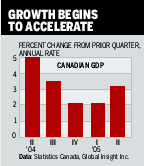 By the second quarter, however, an improving trade balance had begun to contribute positively to growth, and the currency restraint continues to ease. Moreover, the biggest drag on second-quarter GDP was a second consecutive slowing in inventory growth. Strong demand by consumers, businesses, and the government combined with lean inventories leaves the economy set for output to speed up in the second half.
That pickup would come at a time when unemployment is close to a 30-year low and the factory operating rate is near a 30-year high. Costlier energy has already pushed air fares up sharply, and the latest surge in oil prices will add to the pressure on businesses to pass along higher costs.
The BOC, which is widely expected to begin lifting rates on Sept. 7, has a problem much like that of the Federal Reserve in the U.S.: It must normalize rates, which have been overly accommodating to demand. But because the Canadian economy is already wound up so tightly, the BOC has a smaller margin for error.
By James C. Cooper & Kathleen Madigan
Before it's here, it's on the Bloomberg Terminal.
LEARN MORE