U.S.: This Oil Spike Is Harder To Handle
Slower spending or faster inflation look distinctly possible as costs mount
Back in the spring of 2004 the key question for the outlook was: Will $40-per-barrel oil cripple the economy? Later that year it became: What about $50 oil? Now with oil stubbornly at around $65 per barrel, the question of oil's effect on growth is taking on a new urgency. After all, rosy economic forecasts at the end of 2004 were generally founded on oil prices settling down to $39 by the end of 2005, based on a December Business Outlook survey of economists. Even just this June, a follow-up survey pegged oil at $48 by yearend.
What's increasingly evident is that costlier energy may be a permanent part of the economic landscape. If oil holds at $65 for the rest of the year, the 2005 price will average about $59. The rise of China and India -- and their oil needs -- is a big reason (page 52). In the past four years, China's share of world oil demand has risen from 6.3% to 8%, or by some 2 million barrels of oil per day. That rate is equivalent to Iraq's entire production.
The speed with which oil prices have spiked adds to the concern. The inflation-adjusted price of oil has doubled in less than two years. The last time that happened was in 1980, when the price of West Texas intermediate crude jumped from $44 to $88, measured in dollars of 2005 purchasing power. Moreover, the average price of unleaded regular has jumped 32 cents in just three weeks, to $2.61 per gallon on Aug. 22. That's the fastest three-week rise since the Energy Information Administration began its weekly tracking in 1990.
What's crucial to the second half is how consumers, businesses, and Federal Reserve policy adjust to this rapid and permanent shift in fundamentals at a time when the economy is more vulnerable to any kind of shock than it was in 2004. Those reactions will determine whether the economy can skim past the latest oil spike, as it did during the past two springs. Excessive caution or a few missteps could compound the drag from higher oil prices.
Bear in mind that an oil shock can hit the economy in two ways. It can cut into spending as consumers and businesses shift income and profits toward higher energy bills and away from other purchases. Or the added cost can trigger faster inflation, pushing interest rates up further and complicating the Fed's task of managing the economy. Right now, most of the market focus is on the former, while the inflation risk is generally being ignored.
ANY ANALYSIS HAS TO BEGIN with consumers, who now shell out about $50 every time they fill up. The burden on lower-income households, where necessities take up a greater share of outlays, has become particularly heavy, and sluggish August reports from retailers show some strain on households during the important back-to-school shopping season.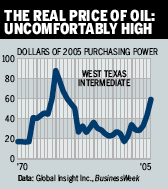 Before this summer, consumers adjusted pretty well to costlier fuel. Price jumps in the spring of both 2004 and 2005 caused some temporary weakening in the pace of spending, and buying patterns as well as readings on consumer confidence are sure to sag in coming months. But while households bounced back after the two previous soft patches, often with gusto, this time around the rebound could be much more restrained, especially if oil stays at its lofty level.
That's because consumer fundamentals will be far less robust as 2005 winds down than they were at the start of 2005 or in 2004. Previously, historically low interest rates, the tail-end stimulus of the 2003 tax cuts, improving job markets, solid income growth, and record wealth all combined to give households the means to overcome higher energy bills. Inflation-adjusted consumer spending has grown nearly 4% over the past year. Had oil and gas not spiked, outlays would most likely have grown closer to 5%.
NOW, THOUGH, HOUSEHOLDS face bigger head winds. Tax cuts are a thing of the past, and a declining federal deficit for fiscal 2005 means government finances are no longer stimulating growth.
Moreover, the Fed is set to continue raising interest rates. Last year at this time, the Fed's target federal funds rate -- a mere 1.5% -- helped to ease the pain of $50 oil. Now, with oil at $65, the funds rate is at 3.5% and set to go higher. And while it has not happened yet, at some point long-term rates -- including mortgage rates -- will rise as well. That means housing and home prices will offer less support to consumer spending and wealth.
While consumers gripe about gas prices, many have not yet changed their travel plans. The American Automobile Assn. estimates that the number of people traveling 50 miles or more over the Labor Day weekend will increase by 0.9% from last year. The number traveling by car is also expected to be up slightly.
Why no letup? Probably the best explanation is that consumers' fortunes and sense of well-being are tied more closely to the labor markets than to anything else. True, in June households spent $58 billion more on energy than they did the year before. But their income from wages and salaries rose by nearly $400 billion.
THE IMPORTANCE OF THE JOB MARKET highlights the idea that the response of businesses to the new surge in energy costs will be just as crucial to the outlook as the response by consumers. Another round of corporate caution may not only mean a drag on capital spending or a squeeze on profit margins or productivity growth. Any new hesitancy could also affect jobs and incomes, exacerbating energy's pressure on household budgets.
Through most of August, the labor markets look strong, with new weekly claims for jobless benefits trending lower. Based on that, August payrolls probably posted another solid advance. As long as companies are coping, any pullback by consumers in the second half will be short-lived. One caution flag: The trend in orders for capital goods other than aircraft has flattened out in recent months after a period of steady strength.
Interestingly, higher energy costs are now viewed more as a drag on growth rather than as pressure on inflation, as competition has made it more difficult for companies to pass them along. Back in the 1970s, core inflation, which excludes energy and food, moved almost in lockstep with total inflation. But thus far in 2005, core inflation is actually down.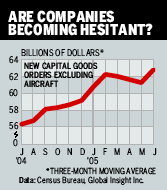 Moreover, companies have been absorbing the added fuel bills with little negative impact on profits. Some of that may well reflect success in passing along the higher costs, especially in the service sector. But more likely, solid demand has boosted total revenues for most industries, while strong advances in productivity have helped corporations to control their costs.
The danger is that the pricing constraints of recent years could break down, allowing inflation to broaden. Already, labor markets are tightening, which is likely to spur faster wage growth, at a time when productivity gains are unlikely to be as strong as in the past. If companies do begin to have greater success at passing along their higher fuel costs, then the key question heading into 2006 will not be whether $65 oil cripples the economy. It will be how the economy and the Fed cope with a significant upward shift in inflation.
By James C. Cooper & Kathleen Madigan
Before it's here, it's on the Bloomberg Terminal.
LEARN MORE