Germany: A Rally With Little Staying Power
The German economy stalled in the second quarter, although recent signs indicate it is picking up again. Even so, any second-half rebound is unlikely to touch off a self-sustaining economic recovery.
The detailed figures for second-quarter real gross domestic product issued on Aug. 23 showed zero growth from the first quarter. An improvement in exports was overshadowed by a surge in imports, creating a net drag from foreign trade. As implied by the jump in imports, domestic demand improved. But the rise in spending at home was not provided by consumers. Private consumption fell by 0.3%. Rather, the government and businesses carried the load. Public spending and capital-equipment outlays each grew 0.6%.
Improving prospects for exports, as well as a successful effort by German companies to rein in labor costs, have spurred businesses to ramp up their investment. Capital outlays have increased 5.2% from the previous year, vs. 0.6% for the overall economy. And an IFO Institute survey of analysts around the globe showed a brighter outlook for world growth in the second half of 2005. Of course, growth in German exports and capital spending will depend on whether oil prices squelch the global rebound.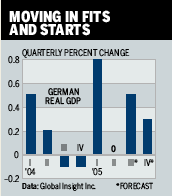 Politics may also spur growth in the second half. Voters are expected to kick out Chancellor Gerhard Schröder at the Sept. 18 national elections. The Christian Democrats' candidate, Angela Merkel, holds a double-digit, albeit narrowing, lead. If her party wins, she will push to increase the value-added tax (VAT) to 18%, from 16%, beginning in January. In response, consumers will likely make big-ticket purchases during the second half of 2005 to avoid paying the extra tax next year.
Unfortunately, a corresponding decline in consumer spending in early 2006 would be likely. On top of that, a Christian Democrat victory would likely mean further economic reforms, such as the scaling back of restrictive labor laws. Those changes would cause short-term pain for households at the gain of improving the long-term economic prospects of the country.
By James Mehring in New York
Before it's here, it's on the Bloomberg Terminal.
LEARN MORE