U.S.: Doubts About The Productivity Slowdown
What's the Fed to do about widely differing measures of output per hour?
Many expectations about the economy in 2005 have been predicated on the performance in productivity. Conventional wisdom held that slower growth in output per hour worked -- a typical trend this far into a recovery -- would prompt companies to hire more, lift labor costs, intensify the pressures under inflation, and cause the Federal Reserve to keep raising interest rates.
And lo and behold, the latest news seems to fulfill those forecasts. On Aug. 9, the Bureau of Labor Statistics said that in the second quarter, the most widely followed measure of productivity, output per hour in the nonfarm business sector, grew at a 2.2.% annual rate from the first quarter. Over the past year, productivity increased just 2.3%, down sharply from the 5% yearly pace seen at the end of 2003.
That report came just days after the BLS said nonfarm payrolls jumped by a large 207,000 in July, with upward revisions to the May and June data. And as expected, the Fed hiked rates on Aug. 9 by a quarter-point for the 10th time in 15 months, to 3.5%. Looks like conventional wisdom is knocking down all the pins, right?
Perhaps, but what's overlooked in the above numbers is the fact that the BLS actually calculates a second broad measure of productivity, one that shows a more robust trend and one that happens to be followed closely by the Fed. This measure covers only the nonfinancial corporate sector, and it shows productivity in the first quarter grew 5.4% from a year ago. (The BLS reports these data with a one-month lag.) That pace is actually faster than the 4.5% yearly clip recorded at the end of 2003.
The conflicting signs in productivity come at a crucial time. Labor markets are tightening, and the continued rise in oil prices threatens to spill over into the prices of other goods and services. Correctly gauging the pattern of productivity is crucial to deciding how much inflation potential there is in the economy and how much further the Fed will have to lift rates to sustain its goal of continued price stability.
BEAR IN MIND THAT NEITHER set of data is necessarily better than the other. They just use different measures of output. In the widely cited nonfarm business sector gauge of productivity, output is derived from data similar to that which goes into the gross domestic product. Productivity in the nonfinancial corporate sector uses an output measure derived from the equivalent gauge of economic activity, gross domestic income. Theoretically, the value of products and the income they generate should be the same. Fed Chairman Alan Greenspan has called the two standards, "conceptually equivalent." But since the government uses different sources of information to tally up GDP and GDI, the numbers rarely match in practice.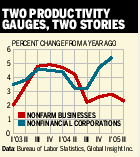 What raises this debate into the realm of policy importance is that, in the past, Greenspan has tracked this second set of productivity data closely. In his July 20 testimony before Congress, Greenspan noted the divergent trends in both measures, and concluded that more evidence would be needed to gauge the extent of the productivity slowdown. And although further revisions by the BLS will eventually tell the true story, what the data seem to be saying now is that productivity has not slowed down by as much as the nonfarm business trend shows, but it is not as strong as the nonfinancial numbers indicate.
WHERE BOTH MEASURES do agree is that labor compensation surged in recent quarters, reflecting large bonus payments and other profit-related pay such as stock option exercises. But given the two measures' different growth rates for productivity, they indicate disparate trends in unit labor costs and profit margins. Those, in turn, imply different responses from the Fed.
In the nonfarm business measure, smaller gains in efficiency are no longer offsetting increases in labor compensation. As a result, it now costs businesses far more to make and sell one unit of their product. Last quarter, nonfarm unit labor costs, which have typically been a key driver of inflation during periods of strong demand, were up 4.3% from a year ago, the fastest yearly clip in nearly five years.
As a result, businesses are faced with either raising prices faster in order to keep up or watching their profit margins shrink. If more companies choose the former, the Fed will have to move more aggressively than the financial markets now expect.
But within the nonfinancial sector, faster productivity means unit labor costs are up by just 1.4% from a year ago, about the same clip as prices. Consequently, businesses have little need to protect margins, and the Fed can worry less about cost pressures feeding into inflation expectations. Policymakers can continue with their "measured" pace of quarter-point hikes.
Which is right? As Greenspan noted, it might take a while to sort it all out. However, one advantage of the nonfinancial corporate numbers is that, since they rely more on income-based reporting, they give more of an "apples and apples" comparison between compensation and output. The data from the nonfarm business sector, meanwhile, offer a sort of "apples and oranges" comparison of compensation and output per hour.
Moreover, the surprising strength of profits so far this year suggests that the more sanguine reading of unit labor costs from the nonfinancial sector may well be closer to the truth. That means profits and compensation should do equally well in the second half, especially since the latest data on orders, inventories, and sales suggest real GDP is on track to grow at a 4% annual rate.
A NEW, LOOMING QUESTION for the second half, though, is whether monthly job gains of 200,000 or more can offset the drag from $65-per-barrel oil. The average price for a gallon of gasoline hit a record $2.37 in the week of Aug. 8. If oil stays near $65, then a gallon of gas could hit $2.60 soon, with drivers in some cities likely shelling out well more than $3.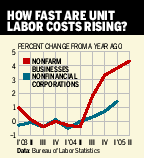 But so far, the oil spike hasn't stopped demand. The latest news from car dealers and other retail outlets show consumers have not pared back their other purchases to afford the higher tab at the gas pump. Even in its Aug. 9 policy statement, the Fed noted that "aggregate spending, despite high energy prices, appears to have strengthened since late winter."
A major reason for that is tighter job markets, which are pushing up pay raises. In July the average hourly pay for production workers rose 0.4% from June. Over the past year wages rose 2.7%, up from a 2% pace a year ago, keeping household budgets a shade ahead of inflation.
For the economy as a whole, the acceleration in pay indicates workers are starting to benefit more from productivity gains than capital is. A better balance between personal income and corporate earnings would mean that both consumers and businesses can keep spending in the second half, even with the higher energy bills. That will be good for the economy, no matter which measure of productivity you choose to follow.
By James C. Cooper & Kathleen Madigan
Before it's here, it's on the Bloomberg Terminal.
LEARN MORE