New River May Have A "Blockbuster" For ADHD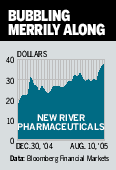 New River Pharmaceuticals (NRPH ) has yet to make a dime -- but investors love it. It rocketed to a high of 38.75 on Aug. 10, up from 14 on Dec. 30. It is developing novel products designed as safer, improved versions of widely prescribed drugs. Its most advanced compound is NRP104, which some say may become the lead remedy for attention-deficit hyperactivity disorder (ADHD). New River will file later this year with the Food & Drug Administration a new-drug application for NRP104, which is in the final stage of its Phase 3 clinical trials. Andrew Forman of investment firm WR Hambrecht expects profits of 61 cents on sales of $119 million in 2007 and $2.48 on sales of $399 million in 2008. His stock price target is 52. New River has teamed up with Shire Pharmaceuticals Group (SHPGY ), which sells the current leading drug for ADHD -- called Adderall XR, whose patent expires in late 2006. Adderall sales in the second quarter were up 43%, to $205 million. Shire is expected to focus on NRP104 when Adderall's patent expires. Wen-Tse Tseng, managing director at William D. Witter, which owns shares, says NRP104 is a "blockbuster with potential peak annual sales of $1 billion."
Note: Unless otherwise noted, neither the sources cited in Inside Wall Street nor their firms hold positions in the stocks under discussion. Similarly, they have no investment banking or other financial relationships with them.
By Gene G. Marcial
Before it's here, it's on the Bloomberg Terminal.
LEARN MORE