Chile: Inflation Fears -- For Good Reason
The economic party in Chile is in full swing. No wonder, then, that the central bank is under pressure to remove the punch bowl quickly.
The latest monthly business activity index shows the economy grew 6.4% in the year ended in June. The gain supports most forecasts that Chile will grow by about 6% this year, after expanding 6.1% in 2004.
Growth is broad-based. First, healthy job gains are fueling consumer spending. For the three months ended in May, jobs rose by 239,000 from the same period in 2004, the strongest showing in 12 years. Second, businesses are investing more in new plants and equipment. Production of capital goods was up by 39% in the year ended in the second quarter, and imports of business equipment are also surging.
Last, record high prices and solid demand from China has increased foreign sales of copper, Chile's No. 1 export. Total exports in the first seven months of 2005 jumped by 23% from the same period in 2004. But even so, the trade surplus is shrinking because consumer demand for cars and electronics, along with high oil prices and capital spending, is boosting imports.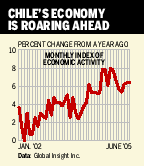 With the economy booming, it's not surprising that the central bank of Chile is worrying about inflation. In July, total consumer prices were up 3.1% from their year-ago levels, while core prices, which exclude food, fuel, and some other items, rose 2.4%. Plus, tighter labor markets suggest cost pressures will keep building into 2006, especially since the government has approved a plan to lift the minimum wage by 12% over the next two years.
The central bank began to lift interest rates gradually in September, 2004, when it was clear the recovery was on firm footing. Now, with growth so strong and widespread, investors are thinking the bank may hike rates at each meeting for the rest of 2005. If so, the overnight policy rate will hit 4.75% by yearend.
In December, Chileans will elect a new president. The front-runner, former Defense Minister Michelle Bachelet, has promised to maintain Chile's fiscal surplus, while taking steps to ensure that the country's economic vigor trickles down to its poorest citizens, who so far have shared little in Chile's prosperity.
By James C. Cooper & Kathleen Madigan
Before it's here, it's on the Bloomberg Terminal.
LEARN MORE