How are Vodafone's new handsets like the Edsel?
Vodafone gives people simple, easy-to-use cell phones. But is that what mobile yakkers want in their heart of hearts?
by

John Moore praises Vodafone's new simple cell phones, which apparently are designed for easy talking. Loads of people insist they want a phone only for talking, and that the other stuff gets in the way. It's become almost politically correct. (Subtext: Gadgets do not rule my life.) The question is whether these people can be believed. Car buyers in the late '50s asked for simplicity, and Ford gave them the Edsel. Would you buy one of these pared down phones?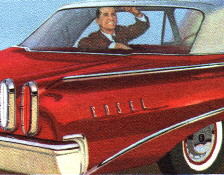 (Art from Edsel.com)
Before it's here, it's on the Bloomberg Terminal.
LEARN MORE