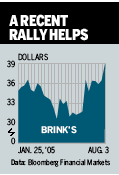 Sometime in the next few months, Brink's (BCO ) is expected to jettison its air-freight delivery unit, BAX Global, which has been a drag on its earnings. If it does sell, as some pros think it will, it should boost the stock, which despite a recent rally to 38 is still below its 52-week high of 39.91. The capital-intensive and slim-margin BAX business accounts for 50% of Brink's revenues and 20% of operating profits. Two other businesses -- armored-car bank transport and electronic security systems for the home -- provide the rest. Brink's largest shareholder, MCM Management, is urging the board to sell BAX as a means of upping the stock's valuation -- and bolstering the company's finances. The proceeds, says MCM in a letter to the board in April, should be used to clean up its balance sheet, partly by paying off liabilities from the coal operations that it left in 2000. Management has told analysts it is looking at all options.
Steven Cohen, chief investment officer at Kellner DiLeo Cohen, which owns shares, says that over the years, BAX's profitability has been poor because of stiff competition and high capital requirements. Brink's is selling at a 40% discount to its peers because of the low value investors put on BAX, which he pegs at $650 million, based on five times its EBITDA. He figures Brink's will earn $1.95 a share in 2005 on sales of $5.2 billion and $2.35 a share in 2006 on $5.6 billion. Cohen says Brink's is worth 55 a share on a sum-of-the-parts valuation. Michael Hoffman of securities firm Friedman, Billings, Ramsey Group (FBR ) says that Brink's is undervalued and that the fastest way to unlock its value is to sell BAX. Hoffman rates Brink's "outperform."
Note: Unless otherwise noted, neither the sources cited in Inside Wall Street nor their firms hold positions in the stocks under discussion. Similarly, they have no investment banking or other financial relationships with them.
By Gene G. Marcial
Before it's here, it's on the Bloomberg Terminal.
LEARN MORE