The Euro Zone: A Weaker Euro Gives Business a Boost
Don't break out the word "recovery" just yet, but the worst appears to be over for the economy of the 12-nation euro zone. To be sure, the area's long-term issues of competitiveness and restructuring will continue to weigh down economic performance. But after a dismal start to the second quarter, growth prospects for the second half, at least, are looking a shade brighter.
Although consumer demand still must contend with drags from weak job markets and sagging confidence, the business sector is starting to show new life. Nearly all the July business surveys across the euro zone came in stronger than expected. Readings on business confidence bounced up in Germany, France, and Italy, and the European Commission's July index of economic sentiment across the region rose for the second month in a row, after a declining trend going back to last October.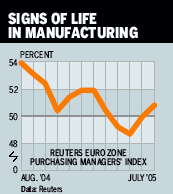 Businesses are feeling more optimistic partly because of this year's 10% or so drop in the euro, which is lifting the fortunes of euro zone exporters and shoring up the factory sector. Second-quarter profits are beating expectations.
Manufacturing was a big source of the second quarter's weakness. But in July, the Reuters Group PLC (RTRSY ) purchasing managers index of industrial activity rose for the first time in four months. Businesses in both the euro zone and the U.S. have eliminated their excess inventories, clearing the way for orders and production to regain strength.
The problem is domestic demand. With joblessness still close to a five-year high across the region, consumer confidence remains depressed. But even here, there are some hopeful signs, as businesses start looking to hire again. The number of French unemployed fell in June, and in July the ranks of Germany's unemployed shrank for the fourth month in a row.
Economists generally expect the euro zone to grow at an annual rate of 1.5% to 2% in the second half, hitting 2% or better in 2006. That's not great, but it's a brighter prospect than expected a few months ago. And with area-wide inflation in July running at 2.2%, above the European Central Bank's 2% tolerance range, a firmer economy now all but eliminates any chance for a rate cut by the ECB.
By James C. Cooper & Kathleen Madigan
Before it's here, it's on the Bloomberg Terminal.
LEARN MORE