Behind Schwab's Steady Gains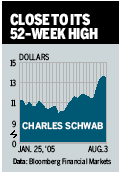 Market technicians are a breed apart: While most analysts look at fundamentals like earnings, techies zero in on trading patterns, such as price behavior and volume. They are impressed with Charles Schwab (SCH ). When talk swirled in mid-July that it was a takeover target, shares jumped to a 52-week high of 13.91 on July 28, up from 11 in early July. Founder Chuck Schwab, who last year reassumed the role of CEO, quickly asserted that neither he nor the board would sell. The stock softened for a day but didn't dive. It closed at 13.37 on Aug. 3. Healthy second-quarter results -- with earnings up 75% from last year -- helped. Technically, the stock broke out of a one-year range between 8 and 12, priming it for further rises, says Bernie Schaeffer of Schaeffer's Investment Research, who sees Schwab hitting 20 this year, noting that it had dived from 40 in July, 2000, to 6.25 in March, 2003.
Schwab is slashing costs and cutting its dependence on the volatile trading business -- now 17% of revenues vs. 60% in 2000. Some 80% comes from nontrading services, such as managing clients' assets, which total $1.1 trillion, up 11% from a year ago. Schaeffer also notes that short-sellers' interest in Schwab exceeds 30 million shares, seven times its daily trading volume. When analysts upgrade their ratings, the stock will jump, and the shorts, Schaeffer says, will have to buy shares to cover. "And there's the takeover kicker." Mike Hecht of Banc of America (BAC ) Securities, tags Schwab a buy and sees strong earnings growth ahead. He expects earnings of 58 cents a share in 2005 and 72 cents in 2006. Banc of America owns shares and has done banking for Schwab.
Note: Unless otherwise noted, neither the sources cited in Inside Wall Street nor their firms hold positions in the stocks under discussion. Similarly, they have no investment banking or other financial relationships with them.
Before it's here, it's on the Bloomberg Terminal.
LEARN MORE