U.S.: Putting Their Money Where Their Mouths Aren't
Despite a dip in confidence, consumers are spending on big-ticket items
Let's see if we can get this straight. The economy is experiencing the weakest job recovery on record, but wages and salaries of workers are up nearly 8% over the past year. Gasoline prices are well over $2.50 per gallon in many areas of the country, but people are buying more gas, not less. They are buying a lot more of everything else, too. Real household spending is up about 4% from last year -- and home sales hit another record. Consumers may have said they were less confident in July, but they sure aren't acting that way.
The bottom line: Don't sell consumers short, or you may end up underestimating the economy's performance in the second half. The latest data tell the story. They show not only strong overall demand, but they also indicate that any inventory problems earlier in the year, especially in the auto industry, are now fully redressed. General Motors Corp. said on July 27 that it was ending its highly successful employee discount program, because it had basically sold out its 2005 models.
The combination of leaner stockpiles and steady spending is adding renewed strength to the manufacturing sector. Factory orders, outside of aircraft, turned up sharply in June, as did business ordering for new equipment, suggesting that companies remain upbeat about future sales. With consumer-led demand providing the power, the economy may well be on its way to beating the 3.3% pace for the second half now generally expected by forecasters.
WHAT'S BEHIND CONSUMERS' FORTITUDE? First of all, workers are more productive than in past recoveries, meaning the same pace of job growth now generates more output growth -- and thus more income growth -- than it used to. Moreover, with inflation historically low, incomes stretch a lot further. Through the second quarter, real income from wages and salaries was growing just shy of 5%, very close to the average performance during the boom years of the late 1990s.
Second, low interest rates -- the main fuel for housing -- and past gains in household wealth have enhanced consumer finances. True, since the end of the recession, household liabilities have increased by $2.9 trillion. But assets have grown by $10.6 trillion. Household net worth began 2005 some 12% higher than it was at the peak of the stock market bubble in 2000. Rising home equity has accounted for about 70% of that increase.
Lastly, households in general are able to service even the higher pace of borrowing. Despite rising mortgage debt, overall debt service as a percent of aftertax income is no higher than it was two years ago. That's because the share of income required to service nonmortgage debt is declining. Also, delinquency rates on mortgages are falling, and they are down across a broad range of other consumer loans.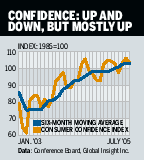 All this explains, to some extent, the disparity between how consumers are behaving and how they say they feel about the future. To be sure, high gas prices and terror bombings in London and Egypt are weighing on their psyches. The Conference Board's index of consumer confidence dipped to 103.2 in July, from 106.2 in June. Still, this gauge has been in a rising trend for the past two years.
The board said consumers are still wary about employment conditions. Their assessments of job prospects slipped a bit in July, with a slightly higher percentage perceiving jobs as "hard to get."
That caution remains despite some encouraging signs from the labor markets. The unemployment rate has slipped from 5.4% in February to 5% in June, nearly a four-year low. And new claims for unemployment insurance dropped sharply in mid-July, with the less-volatile four-week average falling to the lowest level since early March.
Job seekers are also spending less time finding work. In the second quarter, the hunt was shorter for the third quarter in a row, down to 3.1 months, says a survey by Challenger, Gray & Christmas Inc. That's 18% shorter than a year ago. That result jibes with similar patterns in government data. Past trends in the consumer confidence numbers suggest that, given continued labor-market improvement, perceptions about jobs will catch up with reality in the second half.
PERHAPS THE BEST MEASURE of consumers' attitudes is how they spend their money. Even on the heels of June's blockbuster 1.7% increase in retail sales, store reports so far in July suggest continued strength. In particular, Wal-Mart Stores (WMT ) in late July reaffirmed its projection that July sales will post a gain from a year ago in the range of 3%-5%.
Moreover, look at consumer outlays for big-ticket items, such as new homes and cars. Those are major commitments households make when they are confident about their employment and financial future.
Car companies will report their July sales on Aug. 2, but early estimates based on sales through the first two-thirds of the month suggest that the annual rate of car sales will end up in the neighborhood of 19 million to 20 million, in response to generous sales incentives. That pace would follow June's hefty 17.4 million rate, which had matched the strongest showing of the year.
AND, OF COURSE, CONSUMERS remain hot on housing, helped by still-low mortgage rates and strong income growth. In June, sales of existing single-family homes and condos rose another 2.7%, to a peak annual rate of 7.33 million. Sales of new homes rose 4%, to an annual pace of 1.37 million, also a new record.
Housing remains affordable because the average rate on a 30-year fixed mortgage stands well below 6%. So after expectations that housing would slow this year, it now appears as if sales will set another record high in 2005.
What's even more important to the consumer outlook are the high prices being fetched by homes on the market. For existing homes, the median price in June hit $219,000, a gain of 14.7% from prices in June, 2004. The median price of a new home sold in June was essentially flat from a year ago, but so far this year, prices are up 5.9% from the first half of 2004.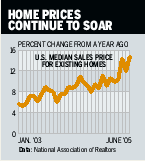 The sharp rise in home prices is fueling this year's rise in household wealth, a major support under spending. The latest Federal Reserve data show that the equity in homes jumped 16.4% in the year ended in the first quarter, even with the money taken out through home-equity loans and cashed out in refinancings. That gain was far larger than the 8.2% rise in total net worth and the 4.9% increase in stocks and mutual funds.
Also fueling economic growth is the money homeowners are putting into remodeling and repairs. According to the Joint Center for Housing Studies at Harvard University, spending on home improvement for the year ended in the second quarter rose 4.5% from year-ago levels, to $133 billion.
So if you're worried about the economy's prospects for the second half, stop losing sleep over the job markets, oil and gas prices, and measures of consumer attitudes. Look at what consumers are doing. Their actions speak volumes about the outlook.
By James C. Cooper & Kathleen Madigan
Before it's here, it's on the Bloomberg Terminal.
LEARN MORE