Set To Sizzle At TurboChef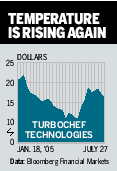 Speed cooking is heating up, and so are the shares of TurboChef Technologies (OVEN ). It makes the high-speed, cook-to-order ovens in use at 20,000 Subway fast-food eateries. And Starbucks (SBUX ) is testing the ovens at 100 stores. The company says feedback from the tests has been favorable. "It is very possible that Starbucks and other major chains will sign up for the TurboChef ovens," says Robert Stovall, managing director at Wood Asset Management, which owns shares. TurboChef's patented technology cooks food 10 to 12 times as fast as conventional ovens -- and at equal or superior quality to, say, a microwave oven, says Adrian Pace of hedge fund Pace Capital Management, which owns shares. He sees the stock, now at 16, hitting 30 in a year. Another big boost: speed ovens for the home, which TurboChef expects to launch next year. The U.S. potential market, Pace figures, is $6 billion. The commercial market is estimated at $1.5 billion. TurboChef had earnings of 37 cents a share in 2004. Pace sees it earning only 4 cents in 2005, because of expansion costs, but jumping to 70 cents in 2006.
Note: Unless otherwise noted, neither the sources cited in Inside Wall Street nor their firms hold positions in the stocks under discussion. Similarly, they have no investment banking or other financial relationships with them.
By Gene G. Marcial
Before it's here, it's on the Bloomberg Terminal.
LEARN MORE