Britain: Bit Of A Rate Cut In The Works?
The British economy slowed sharply in the second quarter, perhaps by more than policymakers at the Bank of England would prefer.
Real gross domestic product was up 0.4% from the first quarter, or just 1.7% from the year-earlier level. That was the smallest annual gain in 12 years.
Two main sectors are holding back growth. Consumer spending has been dragged down by high energy prices, uncertain job prospects, and the leveling out of the once-robust housing market. The jobless rate has been trending higher, hitting 4.8% in the three months ended in May, and job vacancies have been virtually flat so far this year. After posting almost no growth in the four months ended in May, retail sales did jump 1.3% in June. But analysts are waiting to see whether the two terrorist attacks in London in July curtailed shopping in that month or dragged down consumer confidence, which had already posted declines in each month of the second quarter.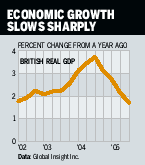 Policymakers had been expecting a slowdown in consumer demand, in part because of a flattening out in home prices. But a larger-than-expected dropoff could add more woes to the already faltering factory sector. Compared to year-ago levels, manufacturing output was down in the first quarter, and the decline continued into April and May. And on July 27, the Confederation of British Industry reported a dip in new orders in the three months ended in July. That marked the third quarterly drop in ordering activity.
British manufacturers are facing higher energy costs, lackluster capital spending at home, and most importantly less demand from a struggling euro zone, Britain's largest export market. With the factory sector in recession, the CBI has called for the BOE's Monetary Policy Committee to loosen monetary policy soon.
Against this slowing economic backdrop, the MPC looks extremely likely to cut interest rates by a quarter-point at its upcoming Aug. 3-4 meeting. Minutes from the July 7 policy session showed a very close 5-4 vote to hold the benchmark rate steady at 4.75%. In addition, investors are starting to think that another rate cut by yearend is a possibility.
By James C. Cooper & Kathleen Madigan
Before it's here, it's on the Bloomberg Terminal.
LEARN MORE