Italy: Another Big Hole In The Budget
Italy's government is fighting an uphill battle to control its budget deficits. A withering economy and national elections next spring will mean little progress anytime soon.
On July 15, Prime Minister Silvio Berlusconi's government approved a preliminary four-year budget plan. Among the highlights is a projected budget deficit of 4.3% of gross domestic product for 2005. It would mark the fourth time in five years that Italy's budget deficit has breached the European Union's 3% deficit ceiling spelled out in the Stability & Growth Pact.
The EU gave Italy until the end of 2007 -- in part because the economy slipped into recession during the first quarter of 2005 -- to get its annual budget shortfall below the 3% level. The latest budget outline calls for a deficit of 2.8% in 2007.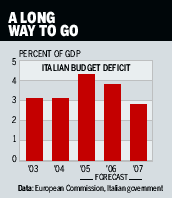 But the economy isn't likely to cooperate. Higher oil prices are hurting domestic demand, and slower growth across the the euro zone is crimping exports. Industrial output in May fell 2.1% from the year before, and purchasing managers' indexes show companies cutting jobs. The government slashed its economic growth forecast for 2005 to zero, from 1.2% earlier, but the employers' federation, Confindustria, expects the economy to shrink by 0.3% for the year. The tepid perform-ance should mean declining tax receipts and increasing social outlays.
With Berlusconi running for reelection in the 2006 national race, hard decisions will be put off for now. The government says it will not hike the value-added tax. Pledged tax cuts for next year will probably be scaled back or scrapped completely to help reduce the budget gap, but nearly $6 billion will be spent on public-works projects to help fulfill a campaign promise made by Berlusconi.
The big budget deficits stem from not only a lack of fiscal restraint but also a declining ability to compete globally. A strong euro, low productivity growth, and the prevalence of manufacturers in low-tech industries are hurting Italy's ability to compete against cheaper producers, especially in China. Because of these dynamics, Italy stands little chance of growing its way out of debt.
By James Mehring in New York
Before it's here, it's on the Bloomberg Terminal.
LEARN MORE