U.S.: The Perils Of Slower Productivity Gains
They could fuel labor costs and inflation as job markets tighten
Through the past four years of recession and recovery, robust productivity gains have been a crucial support for the economy. They have generated a healthy pace of income growth for both businesses and households despite subpar job expansion, helping to keep overall demand strong. And they have held labor costs down for companies, a key factor restraining inflation. Now, however, productivity growth is slowing sharply. The question: Does this new trend threaten to undermine the economy's strong performance?
The quick answer: probably not, but there are risks. It's important to separate the long-term trend in productivity growth, which remains strong by historical standards, with the short-term ups and downs triggered by the churning of the business cycle. Businesses continue to reap gains from past investments in advanced technologies, and new investments will keep the river of economic benefits flowing for corporate profits and consumer living standards in the coming years.
Just look at the trend in paychecks in this recovery. Since the recession ended in 2001, real income from wages and salaries has grown at an annual rate of 2.2%. That's the same pace recorded during the similar period after the 1990-91 recession, even though job growth has been substantially weaker in the current upturn than in the early-1990s recovery. Workers' income gains reflect their greater productivity, especially since pay has become increasingly tied to performance. As a result, greater corporate profitability has aided many workers.
However, the cyclical downdraft now under way in productivity growth is steep, which is hastening the day when the labor markets shift from placing a restraint on labor costs and inflation to providing a boost. The result could imply more upward pressure on interest rates than the financial markets expect. Already, the markets are coming around to the idea that the Federal Reserve's work on lifting rates is far from finished, and the emerging pressure on labor costs will most likely reinforce that thinking.
THE LABOR DEPT.'S employment report for June highlighted these strains. Businesses added 146,000 workers to their payrolls last month, and job gains in both April and May were revised up by a total of 44,000. Monthly payroll gains averaged 181,000 last quarter, about the same as in the first quarter and in all of 2004. That was enough to bring the June jobless rate down to a low of 5% for this business upswing. The rate is falling because of a drop in the number of unemployed, not from people dropping out of the labor force.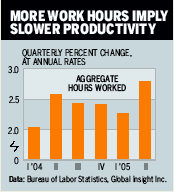 And the job markets are tightening faster than might be expected given the modest pace of job growth. A key reason is that the labor force, those workers employed or seeking a job, is growing more slowly than in past expansions. In the late 1990s, for instance, the labor force grew at a 1.5% annual rate, but since the end of the 2001 recession the pace is down to 0.9%. The dropoff most likely reflects less immigration after the September 11 terrorist attacks and a sharp slowing in labor force growth among women.
Tighter labor markets in turn are pushing up wages, if only gradually. Over the past year and a half, the yearly growth rate of hourly pay for production and nonsupervisory workers has picked up from 1.6% to 2.7% as of June.
MORE IMPORTANT, THE JOBS REPORT offered a glimpse into productivity's performance last quarter. The data show overall hours worked in the second quarter grew at an annual rate of 2.8%, the largest increase since late 1999. Given that forecasters think the economy expanded at an annual rate in the neighborhood of 3.5% in the second quarter, the jump in hours worked implies that productivity probably increased at around 1%. Such a meager gain would put the yearly growth rate of productivity below 2% for the first time since 1997. Labor will report on last quarter's productivity on Aug. 9.
To be sure, productivity growth typically falls off in a recovery, as businesses hire more workers to keep up with the faster pace of demand. And it's important to note that the strong structural trend in productivity has kept the current efficiency slowdown more muted than in past business cycles. Indeed, the slowdown this time has come much later than it did in past business upswings. And the dropoff has been much more modest. By the fourth year of the 1990s expansion, yearly productivity growth had already turned negative for two quarters.
Nevertheless, the productivity downshift comes at a bad time. Unit labor costs, which are what companies pay out in hourly compensation after taking productivity increases into consideration, have been accelerating for a year. Unit costs in the first quarter were up 4.3% from the previous year, the fastest clip in 4 1/2 years. A further speedup is sure to have occurred in the second quarter.
Businesses will have to deal with surging unit labor costs through a combination of raising prices to cover the increases or absorbing them through slimmer profits. Not only that, companies are also feeling the pinch from costlier oil, which remains stubbornly close to $60 per barrel in mid-July. Surveys suggested that businesses were viewing their capital-spending plans with increased caution even before oil shot up. How they deal with these new cost pressures will prove crucial to the outlook.
Second-quarter earnings season, now getting under way, may offer a clue. If earnings last quarter held up well and continued to beat expectations, that may be because companies are having some success in passing along their higher costs to their customers.
THERE ARE ALREADY SIGNS of that. Although the price jumps for commodities and materials have slowed, the Fed's favorite inflation gauge -- the price index for personal consumption expenditures, excluding energy and food -- is picking up. The core PCE is growing at an annual rate of 2.2% so far this year, up from a 1.5% pace for all of 2004. The more the core PCE creeps up, the more nervous Fed officials are bound to get about what it will take to keep inflation in the Fed's comfort zone, generally believed to be in the range of 1% to 3%.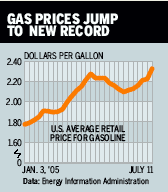 That's a bigger worry now that strong labor markets and income growth have given consumers the wherewithal to accept price hikes. Even higher energy prices seem to be having little effect on consumer demand. Gasoline jumped 10 cents in one week to hit a record national average of $2.33 per gallon on July 11. But households bought new autos at a 17.5 million annual rate in June, up from 16.7 million in May and matching the best showing so far this year. And June store sales look strong, based on SpendingPulse, a new tracking of nonauto retail sales from MasterCard Advisors LLC.
Keep in mind that at some point in every business cycle, tighter labor markets begin to fuel cost pressures and the Fed's resolve to keep them from sparking inflation. That time is still in the future. But because of the sharp slowdown in productivity, a new round of cost strains threaten to show up sooner rather than later.
By James C. Cooper & Kathleen Madigan
Before it's here, it's on the Bloomberg Terminal.
LEARN MORE