South Korea appears on its way to a third consecutive year of disappointing economic growth. The only hope to jump-start the economy may well be an aggressive package of fiscal stimuli, but the government seems cool on that option.
In early July the government cut its forecast for 2005 growth from 5% to 4%, and the Bank of Korea shaved its outlook, already at 4%, to 3.8%. The BOK left its benchmark interest rate at a record low 3.25% at its July 7 meeting, indicating its focus on spurring the economy. With inflation at a three-year low of 2.7% in June, the bank has leeway to keep rates down. That flexibility may be strained in coming months by the pickup in real estate inflation and by the resurgence in oil prices.
The central bank sounded upbeat about second-half prospects, but any substantial improvement faces headwinds. The oil-related slowdown in global demand and the 10% rise in the Korean won in the past year are eating into exports and industrial output. And domestic demand is suffering, reflecting weak corporate profits, business investment, and job gains. June consumer confidence fell for the third month in a row, and business confidence dropped for the fourth month.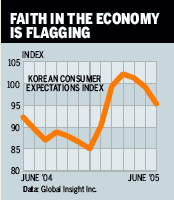 Even so, Korea continues to run one of the most conservative fiscal policies in Asia, having maintained a budget surplus in each year since the 1998 financial crisis. "Measures such as tax cuts and front-loading the budget have been implemented," notes Sharon Lam at Morgan Stanley (MWD ) in Hong Kong, "but they are not aggressive enough." Even as the government has cut some taxes, it has raised others on real estate sales and energy. And while some spending increases have been brought forward, they have done little to boost demand.
Korea's key weakness is domestic demand, but spending at home depends on the success of its export sector. Export growth in the first half slowed to 11%, down from 31% the year before, and prospects for a pickup are not good. Korea is especially vulnerable to a slowdown in China. That means the best hope for stronger domestic demand may well be sizable fiscal stimulus. But that's a move the government, so far, seems unwilling to embrace.
By James C. Cooper & Kathleen Madigan
Before it's here, it's on the Bloomberg Terminal.
LEARN MORE