Channel Glass and Reflective Aluminum Brighten the Shaw Center
Sam Lubell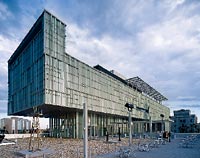 Photo: Timothy Hursley
The intricate surface of the new Shaw Center for the Arts in Baton Rouge (see project story, page 86) are no accident-the architects chose materials and lighting to achieve an iconic look.In developing the facade, the Boston-based design firm Schwartz/Silver Architects, along with associate architect Eskew+Dumez+Ripple, had several goals in mind: to make the building stand out like a beacon; to emulate the shimmering surface of the nearby Mississippi River; to break up the monumental quality of two building types-theater and art museum-that typically use few windows; and to protect the complex from Louisiana's rainy climate.
The design team initially planned to clad the building in copper, which they saw as a unique (not to mention shiny) option. But they later convinced their client to invest $2 million more in a facade that layers channel glass over corrugated aluminum coated with highly reflective metallic paint. The system would provide aesthetic intricacy and glow "like a Chinese lantern," the team said.
To break up the massing of the huge building and lend its surface depth and complexity, the architects conceived a staggered pattern of glass channels of various widths and lengths. Top and bottom supporting shelves also vary in length. These shelves, as well as wind clips, are connected via steel lattices to the building's structural-steel frame.
The glass channels are mounted 2 inches apart, and the aluminum siding sits 6 inches behind them to make cleaning easier and for pressure equalization. Since they act as a rain screen, the channels were tested with a full-scale mock-up, using equipment that simulated hurricane-force winds of 110 miles per hour. Vertical wire glass and aluminum phalanges hold the channels in place, ensuring they won't fall off the facade if they break.
To illuminate the building, the team considered using fluorescent or LED-based light pipes, or incandescent lights integrated into the facade. Both strategies fell by the wayside because they created too much glare and also raised difficult budgetary and maintenance issues. The building is instead lit from eight separate exterior locations, and at night, the lights reflect back and forth off the painted aluminum and glass curtain wall, creating an ethereal, haunting effect.
All are happy with the result. "It was a no-brainer," says Schwartz/Silver partner Chris Ingersoll, AIA, of the switch to glass. "It was vastly superior for creating visual interest."
For more information:
http://archrecord.construction.com/features/digital
/archives/0506dignews-1.asp
Before it's here, it's on the Bloomberg Terminal.
LEARN MORE