Bellevue Arts Museum Reopens
John Pastier
July 13, 2005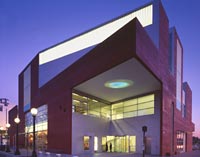 Image: Lara Swimmer
On June 18th, after a 20-month hiatus, the Bellevue Arts Museum reopened with a new mission and a new look. In 2001, the Bellevue moved into its first home, a Steven Holl design, with the goals of presenting cutting-edge contemporary art and providing extensive, hands-on arts education. Located in a culturally conservative Seattle suburb, BAM has now sharply curtailed its education programs and shifted its exhibition focus to "showcasing the fine art of craft and design," in the words of its new director Michael Monroe.
Monroe, who is also an exhibit designer, oversaw an $800,000 remodelling meant to make the building more intimate, more workable as an exhibit facility, and better attuned to its new mission, "while attempting to continue Holl's vocabulary," he says.
To lighten the atmosphere, Monroe's team has repainted the walls of the main level in pale tones of sage, pumpkin, and lavender, improved the exhibit lighting, and covered cracking concrete floors with dark carpeting that also provide acoustic benefits. A library and arts studio were converted to galleries, and an artist-in-residence studio has become a docent space.
Some galleries have been altered by new partitions, better suiting them for displaying smaller objects, while many natural light sources have been blocked, enabling exhibit lighting to take fuller effect. Circulation has been improved by creating an internal red trapezoidal vestibule at the top of the ceremonial staircase that serves the top floor galleries. The foyer arose from a Holl design study; the other changes were largely conceived by Monroe and executed by the local firm of Scalater Architects.
Holl's office has taken the changes in stride. "BAM is an institution in evolution," says project manager Chris McVoy, "and was designed as an art barn able to withstand changes."
For more information:
http://archrecord.construction.com/news
/daily/archives/050713bellevue.asp
Before it's here, it's on the Bloomberg Terminal.
LEARN MORE